Prospective Student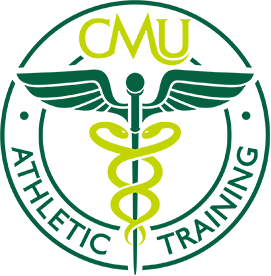 CMU is committed to remaining a leader in athletic training education and has transitioned from the Bachelor of Science in Athletic Training program to an entry level Master of Science in Athletic Training program. TThe program includes a (3+2) accelerated option and leads to a completion of an Exercise Science bachelor's degree as well as master's degree in Athletic Training in five years.
Master of Science in Athletic Training (MSAT)
The Master of Science in Athletic Training (MSAT) program is a professional graduate program designed to prepare students for the Board of Certification examination (BOC) and to prepare students for an entry level career in the prevention, evaluation, treatment, and rehabilitation of athletic injuries. Prospective students for the MSAT program have two points of entry:
Admissions Requirements
Admission into the MSAT Program is highly competitive. Application does not guarantee acceptance.
Option 1: 3+2 BS in Exercise Science/MSAT Program (accelerated program). This option allows the student to complete a baccalaureate degree in Exercise Science and Master's Degree in Athletic Training in five years.
Suggested: ACT composite of 21 or higher or SAT equivalent.
Students matriculating to the MSAT program must have a residential and science GPA of 3.25 or higher.
Students will start their 1 st year in the professional program in the summer term at the end of their 3 rd year and will take graduate courses.
Upon successful completion of all degree requirements, in their 4 th year the student will be awarded a BS in Exercise Science (Pre-AT track).
Upon successful completion of the fifth-year requirements the student will be awarded the MSAT.
This program is recommended for entering freshmen, student athletes, transfer students, or students who change majors early who want to pursue an athletic training degree at CMU.
Students on this 3+2 track are given priority admission.
Students who are not accepted into the MSAT program may continue with a course of study in a Bachelor of Science in Exercise Science provided they meet the requirements.
Additional requirements listed below.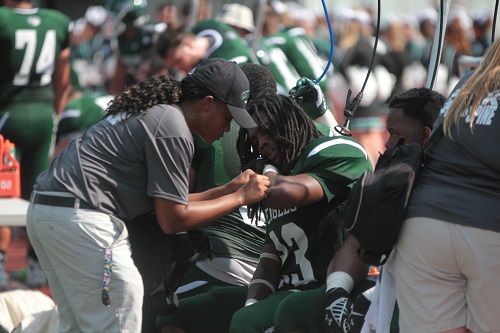 Transfer admission criteria for BS in Exercise Science/MSAT
Students may transfer into the Exercise Science/Pre-AT track at any point (years 1, 2 or 3).
Additional requirements listed below.
Option 2: Two-year (4+2) Professional Program (MSAT).

This program is only for those students who want to pursue athletic training as a career, have completed a bachelor's degree in any major, and have met the admissions requirements.
This is a two-year program including summers.
BA/BS degree from a regionally accredited college or university.
Undergraduate cumulative and science GPA of 3.25 or higher.
Transfer credit will be considered on an individual basis.
Additional requirements listed below.
Additional Admissions Requirements for Option 1 and Option 2
Completion of a minimum of 75 hours of athletic training observation documented under the direct supervision of a BOC certified athletic trainer. See website for hours documentation form.
Completion of all application materials. See university athletic training website for ATCAS application link.

Athletic Training essay
Submission of official transcripts
Observation hours
Submit three references
Technical standards verification (upon acceptance)
Copy of immunization records (incl. MMR, Tetanus, TB, Hep B, Hep C)
Criminal background check (occurs upon acceptance)
Drug test (occurs upon acceptance)
Proof of emergency cardiac care certification. (upon acceptance) Please see link for acceptable cards: http://www.bocatc.org/athletic-trainers#maintain-certification

Completion of the following prerequisites with a grade of "C" or better (no more than 2 repeats

General Biology I w/Lab (e.g. CMU BI101)
Human Physiology (e.g. CMU BI205)
Exercise Physiology (e.g. CMU EX327)
General Chemistry I (e.g. CMU CH111)
General Physics I (e.g. CMU PH111)
Statistics (e.g. CMU MA105)
Kinesiology (e.g. CMU AH324)
Psychology (e.g. CMU PY301 and/or PY223)
Ethics (e.g. CMU PL306 and/or PL105) - Highly Recommended

A grade of "B" or better is required in all Athletic Training (AT) courses and including:

Anatomy (e.g. CMU BI107)
Medical Terminology (e.g. CMU AH211)

Upon submission of application materials, an on-site interview with MSAT Admissions Team will be required.
Retention Policy
Preceptors will assess the student's performance each semester. Each student must earn a 75% in order to matriculate. Students who fail to earn 75% will be placed on a one-semester remediation plan. Failure to adequately satisfy remediation criteria will result in dismissal from the program.
Students must maintain a GPA of 3.25 to matriculate and graduate.
Graduation requires completion of a minimum of 60 hours of coursework with a GPA of 3.25/4.0.
Students can only earn a maximum of two course grades of C. Should a student receive a third C, the student will be dismissed from the program.
Students are required to follow the curriculum sequence for the MSAT. Courses are only offered in specific semesters/terms. Students are not allowed to progress to the next semester/term course sequence until they have passed all courses in the current semester.
Withdrawal from any AT course other than for medical reasons will result in automatic withdrawal from the program. If withdrawing, students may reapply during the next admission cycle.
Additional Fees
In addition to tuition, housing, books / supplies, and transportation costs ( see Student Expenses for a breakdown of tuition and fees), students in the Athletic Training Program will incur additional expenses. The following is a breakdown of the most common costs:
Course Fee (Foliotek Portfolio-AT 511)- $90
Travel to and from clinical sites - varies
Liability Insurance for clinical rotations - $40 (yearly)
CMU Student AT Association Fee /Professional Memberships - $30/$90.
$250 non-refundable acceptance fee
HTH_PR 7100: Introduction to Interprofessional Practice (1) Course is online through the University of Missouri School of Health Professions. Students must apply through the University of Missouri and are subject to tuition and additional fees as required by the UM system.
NOTE: Fees are subject to change.
Application deadline: Priority deadline is November 15 th; All students applying after November 15 th will be considered for entry on a rolling basis.
Health requirements. Immunization Policy of CMU requires students enrolled at Central Methodist University for the first time to have documented proof of measles immunity, a recent tetanus/diphtheria booster, and complete a questionnaire screening for tuberculosis. This documentation is required prior to class attendance.
Students applying to the Athletic Training program must provide vaccination records for Measles, Mumps, and Rubella (MMR), Tetanus, and submit proof of Hepatitis B and Hepatitis C vaccination. Students failing to show proof of MMR, Tetanus, and Hepatitis B and C vaccinations may be admitted to the ATP but will not be allowed to start clinical rotations until proof is confirmed. Immunizations for Hepatitis A, Meningococcal, and an annual flu vaccine is highly recommended for all ATP students. It is possible that a particular facility may require additional screening requirements before being allowed to begin a clinical observation/rotation. Students must be aware that exemptions for any reason may affect clinical rotation placement. The situation could occur where the student would be unable to complete the clinical course and thus be unable to complete the requirements of the AT program.
Athletic Training Program Non-Discriminatory Policy
It is the Athletic Training program policy that all decisions regarding recruitment and admissions shall be made without discrimination on the basis of race, color, age, disability, religion, sex, national origin, marital status, political affiliation, sexual orientation or other individual characteristics other than qualifications for the program, quality of performance, and conduct related to the program in accord with the university's policies, rules and applicable. 
For additional information, contact:
athletictraining@centralmethodist.edu or 660-248-6217