Band Day  
Band Day is a truly exceptional event for all music students from all classes in the areas surrounding Central Methodist University. The day features the annual Band Day Parade and performances by bands, drum lines, and color guards. CMU boasts a robust fine arts program and is proud to host such an inclusive event for students to display their talents for the city of Fayette, as well as their friends and family.
Join us for the 58th annual CMU Band Day on October 7, 2023. Beginning with the parade around the picturesque Fayette square and culminating at Davis Field, there will be exciting performances for all to enjoy! Whether you love the pageantry of a parade, the excitement of a drumline performance, the energy of indoor color guard routines, or the thrill of field competition, there will be something for you at Band Day. 
All high school students are invited to stop by our admissions booth at Davis Field to learn more about CMU. There may be some cool swag for you there! 
Band Day participants, be sure to stop by our admissions booth to pick up your free Band Day wristband. 
Field Stream Link     Parade Stream Link
"CMU Band Day 2023 - Marching to Our Own Beat!"  
Band Day October 7
Schedule of Events
Parade Competition – around the square - 9:30 – 11:41
Field Competition – Davis Field - 11:00 – 7:15 ($5 entry fee)
Indoor Color Guard – Rec Center – 10:50 – 3:45
Indoor Drum Line – Field House – 12:00 – 5:15
Awards Ceremony (1A/2A) – appx. 2:15 (Davis Field)
Awards Ceremony (3A-5A) – appx. 7:20 (Davis Field)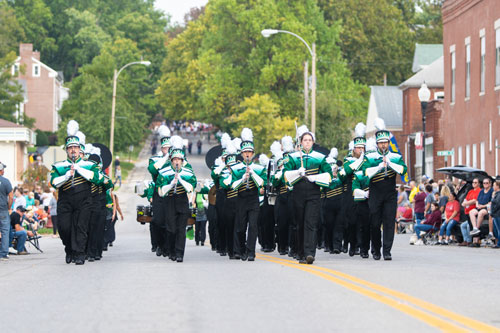 ---
Band Day Parking Map