Alpha Epsilon Delta - Health Pre-Professional Honor Society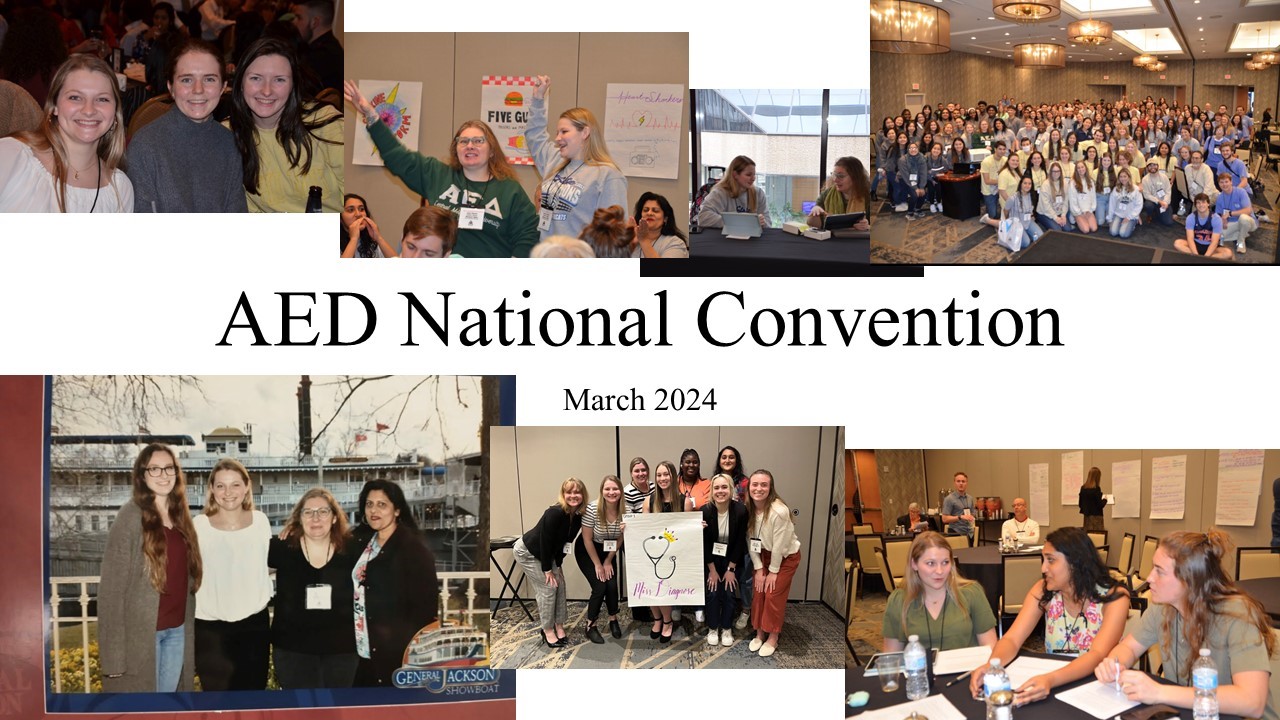 Alpha Epsilon Delta (ΑΕΔ) is the National Health Pre-Professional Honor Society. They pride themselves in philanthropy, volunteerism, and exceptional academics. They help shape the future leaders of tomorrow's healthcare by encouraging them to excel both inside and outside of the classroom. They are dedicated to the encouragement and recognition of excellence in professional health scholarship, including medicine, dentistry, veterinary, as well as others. The society welcomes all students engaged in the pursuit of a professional healthcare career. AED offers opportunities for intellectual and professional development through forums for students with common interests and by extending a program of service to benefit the university and community. AED functions both as an honor society and service organization. This dual role is reflective in the societal structure and chapter activities.
CMU is the proud home of the first AED chapter in the state of Missouri.
Upcoming Events
August 31 - Bioethics Case Studies, BBB Revival
September 7 - Intubation Lab @ Thogmorton
September 14 - Soybean Research @ MU
September 15 - Friday, Trip to Idexx History Core
September 21 - Deana Grant from the Electron Microsopy Core
September 22 - Friday, EMC Field Trip
September 28 - CV/Resume/Cover Letter Workshop
October 5 - Ross University Veterinary School
October 27 - Friday, Undergraduate and Graduate Research Opportunities @ Mizzou Fieldtrip
Latest News
Congratulations to our new AED members:
Gavin Michael Bishop
Samantha Nichole Doisy
Timothy Austin Ennis
Devon Calista Graham
Megan Rae Hoskey
Amara Noel Reichert
Our newly elected officers are:
President - Kaylee Kapeller
Vice President - Gavin Bishop
Secretary - Devon Graham
Treasurer - Austin Ennis
Social Media Officer (Historian) - Megan Hoskey
Social Media: 
Hear From a Recent AED Alums
Kylie Limback
"
I am from rural Waverly, Missouri and attended Central Methodist University from 2016-2020, where I spent my last year at the Kansas City University of Medicine and Biosciences, where I am currently attending medical school through the CMU-KCU Partnership Program. I majored in Biology and minored in Chemistry during my time at CMU. I also played varsity volleyball at CMU and was involved in many clubs around campus. KCU is a wonderful medical school, and I am learning a lot about how to become the best physician I can for the future. I am currently undecided about what specialty I want to pursue and hope to discover that during my 3rd & 4th year clinical rotations. This summer I was accepted for the KCU Summer Student Research Fellowship of 2020 where I will be helping conduct research on Muscle Dystrophy."
Caitlyn Landewee
"I am from Leopold, Missouri and I attended Central Methodist University from 2015-2019. I majored in Biology and minored in chemistry. I was a member of the Conservatory Singers and also involved in many other clubs on campus. I am currently attending Ross University School of Medicine in Barbados. I am learning a lot about medicine and how to be a great physician while also learning a lot about the culture of the beautiful island. I hope to specialize in pediatrics, but that could change when I start clinicals in the last 2 years of medical school."
Advisor: Dr. Ania Slusarz