Assessment at CMU
What will a CMU graduate know and be able to do at the end of their course of study? And how will we know if they get there? Those two questions are at the heart of assessment.
Central Methodist University, in compliance with Higher Learning Commission, has developed an assessment plan to cultivate a culture of continuous improvement in student learning by assessing progress towards outcomes created by an Assessment Wheel. The outcomes are also created to support our Mission Statement, which guides decisions in all CMU academic and non-academic programs. The assessment plan: 
Is t

houghtful, systematic, and driven by faculty;

 

Reflect

s

the goals of particular disciplines, as well as the University Learning Outcomes;

 

Guide

s

departments and programs in the creation and refinement of curriculum.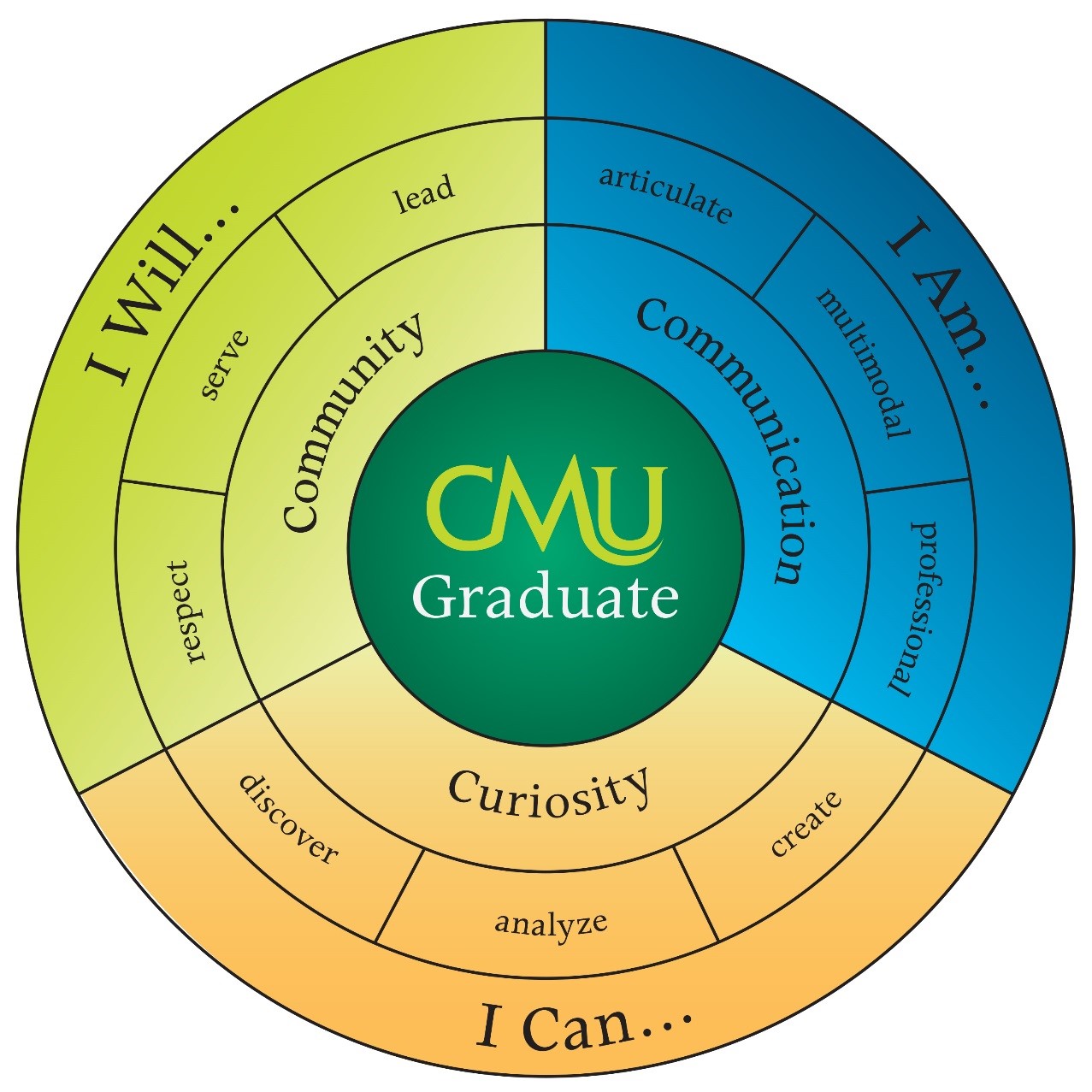 CMU's University Learning Principles, commonly known as "the Wheel," were adopted in May 2016. The Wheel steers the mission of Central Methodist University by defining the common learning goals of all students. Our mission statement is: 
Central Methodist University fosters a diverse and caring community, empowering students to become lifelong learners, committed to academic excellence, prepared to engage in a complex world.
This mission goes well with CMU's focus on the "3 C's displayed in the Wheel—curiosity, communication, and community.
At the end of their degree program, CMU graduates should be able to say "I Will…", "I Am….", and "I Can…." showing students have both the knowledge and the skills for their immediate careers and their future careers. The Wheel also guides the assessment process by stating the common goals of the different academic and non-academic programs.
The faculty have ultimate responsibility for assessment of both General Education and Academic Programs. They are assisted by the Director of Assessment, the Assessment Committee, and the Provost's Office. For a more detailed breakdown of assessment responsibilities, please see the Assessment Handbook.
Quality assessment is essential. Through the use of both direct and indirect evidence of student achievement, assessments guide collective actions for improvements in teaching, academic supports, and curricula. The Director of Assessment and the Assessment Committee serve the CMU community by supporting assessment activities, coordinating university-wide assessments, and fostering a culture of quality improvement in teaching and in learning. Assessment reporting is compiled in the WEAVE Online data management system.
Assessment
In 2007, CMU implemented a web-based software package that helps organize and implement assessment plans. All academic and administrative programs use WEAVEonline to share their mission, outcomes, measures, findings, action plan, analysis, and annual reports with the CMU community. The use of WEAVEonline develops a collaborative culture of assessment communicating the goals of excellence and our journeys to meet those goals throughout the University.