In Honor Of Valentine's Day: CMU Love Stories
Personal Stories Told By Alumni Who Met And Fell In Love At Central Methodist University
February 14, 2019
By MAGGIE GEBHARDT / mgebhardt@centralmethodist.edu
& TRACI BALLEW / tballew@centralmethodist.edu
Many graduates of Central Methodist University fondly look back on their time as students, remembering all the fun had in classes, athletics, clubs, and organizations. They have walked away with a lifetime of memories, and moments they thank for success achieved in life and dreams that became realities.

But even beyond that, many CMU students found the love of their lives on campus, and believe Central to be the beginning of their happily ever afters. In honor of Valentine's Day, we have reached out to our alumni and asked for their CMU love stories…


Jessica & Joe Ryan Anderson
"My husband, Joe Ryan, and I have been together for 6 years, and over a year and a half married. CMU has been such a blessing for us in so many ways!"

Kevin Austene
"My wife and I met at Central. Our first date was at the Grand there in Fayette on December 5, 1980. We will be celebrating our 36th wedding anniversary in May."

Allicia & Paul Baum
"Paul and I met on the marching band field before classes even started my freshman year at CMC. I was on the dance team back when we marched and performed with the band during football season and he played trumpet. We were just friends until later that school year when we started dating on band tour. That was the spring of 1995. After a short break up, we ended up back together in the winter of 1995 and he gave me his Sig Alph sweatshirt not long after that. I was Sig Alph sweetheart for two years ('96-'97 and '97-'98). I was also Zeta president for those two years and we were very active on campus. In the summer of 1996, we got engaged. We continued to participate in choir and Greek life and many other things on campus. We were married at Linn Memorial in August 1997, prior to our senior year, and our wedding celebration was full of family, friends, and our college "family." We spent that year in married student housing. We made homecoming banners and Greek week posters in that tiny apartment. Thinking about it makes me laugh to this day. There was a refrigerator in the bedroom closet, and once the king sized bed was in the other room you basically could sit and touch the wall on all sides. One of our professors knocked on our door once to inquire as to why I had made it to his class, but not Paul. I let Paul answer (lol). He were Central Methodist Homecoming King and Queen in 1997, shortly after we were married. We both graduated in May 1998. We have three children - Madelyn (18), Matthew (13), and Morgan (8). Their godparents are also Central grads and two of our kids are their namesakes. Many of our very best friends are from our college days. In the years since, Central has continued to be a huge part of who we are as individuals and as a couple. We visit for homecoming and other events frequently. We continue to host choir members on tour, remind kids we know to check out our alma mater when considering colleges, and have an abundance of old college sweatshirts stacked in our closet. To say Central has influenced our lives is an understatement. I'm grateful that is where our love story began."

Katie & John Bodkins
"John and I met while in college at CMU 2006. We were friends first and then he chased me down. We have been married eight years and have 3 kiddos!"

Bill Wells & Shawn Bonar
"Met my future wife during marching band. Both of us went a different direction. Fast forward to 2007, we started dating, were married in 2008 on campus. Have a beautiful 9-year-old daughter."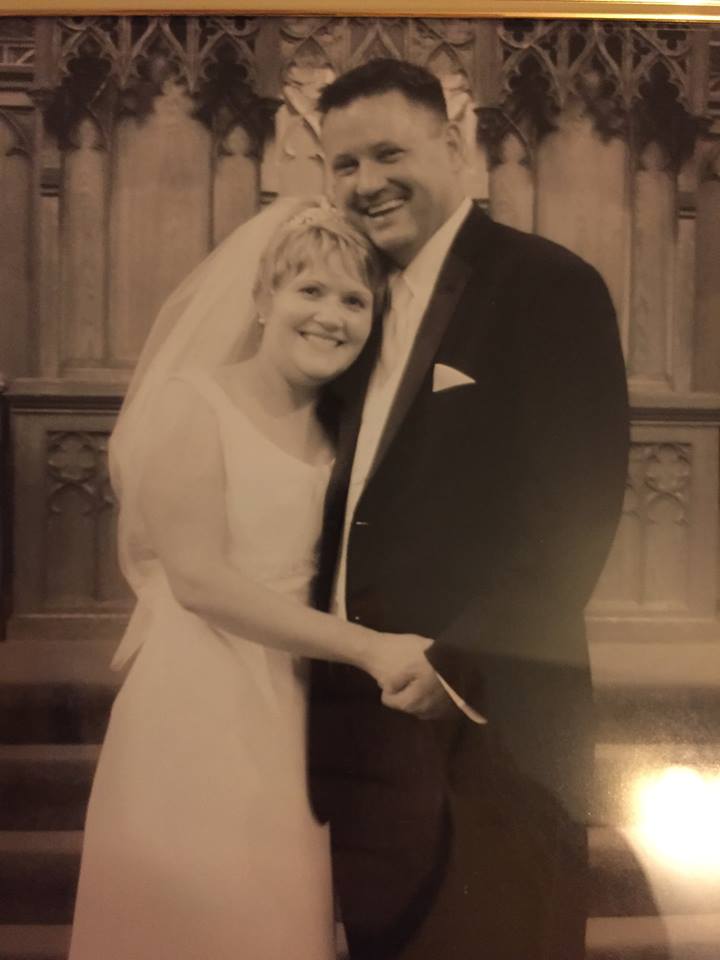 Don & Deborah Brashears
"In fall of 1966, I was a sophomore and during the first week of school I was hanging out with friends at the old student union called The Eyrie. Suddenly around the corner came a beautiful freshman girl. I was instantly smitten. I don't remember how I found out her name, Deborah Williams, but I called her at Howard Payne and asked her out. She agreed to what was a blind date for her but with the stipulation that I find dates for several of her friends. That took me about 15 minutes. So I called her back and the date was set for a "road party" that very night with about a half-dozen couples. I remember thinking that night that she might just be the one for me. I soon realized I was right. We later became "lavaliered," then "pinned" and finally engaged before being married on December 20, 1969. We will celebrate our 50th anniversary this December with a family get together in Arizona. We have five children and nine grandchildren."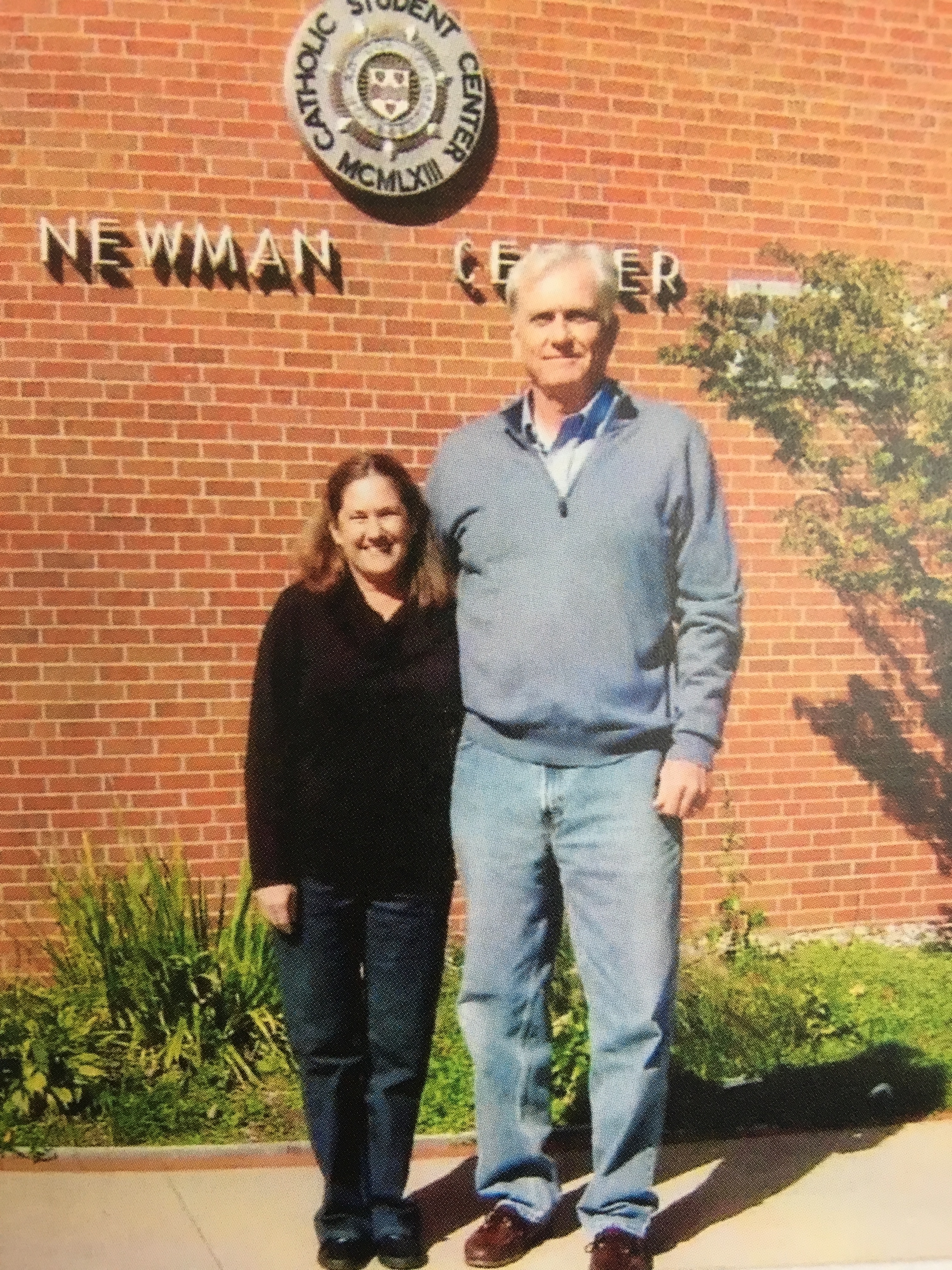 Hayley & Nick Chapman
"Nick ('13) and I ('13) met in 2009 while rushing Greek organizations. While we were total opposites, we were inseparable. Fast forward 10 years and nothing has changed. This year marks year 5 of marriage and we always think fondly back to those early years at CMU."

Ashley Riggs & Evan Christopher
"Evan and I met in 2006 before we both transferred to CMU. He transferred from Coffeyville CC to play football and I walked on to play b-ball and become an Athletic Training student. We were engaged shortly after. We have now been married for almost 7 years and just welcomed our second child. CMU was our home for 3 amazing years and we still cherish the school and all of the friendships we have gained. We are forever Eagles!"

Emily Clark & Nathaniel Bardot
"My husband and I met during our freshman religions class- I was the talkative one, he slept the entire time. It wasn't until an English course sophomore year that we really talked. I was sick the first day of class and he filled me in on our assignment. The rest is history. While he didn't stay at CMU, Central paved the way for our relationship. 5 years later and we're married and just welcomed our daughter! He'll get to see me walk across Central's stage one more time when I graduate with my Masters in Clinical Counseling this May! Even if our story doesn't get shared, I'm happy to tell whoever reads this how thankful I am for Central."

Breanne & Alex Clawson
"My husband and I met at CMU and began dating in 2010. He was a Sig Alph and I was a Zeta. In July 2016 we were married at Linn Memorial Church. We have been married two and a half years and have one son. Here is a photo of our wedding party at the C Bench. 14 members of our wedding party were CMU graduates!"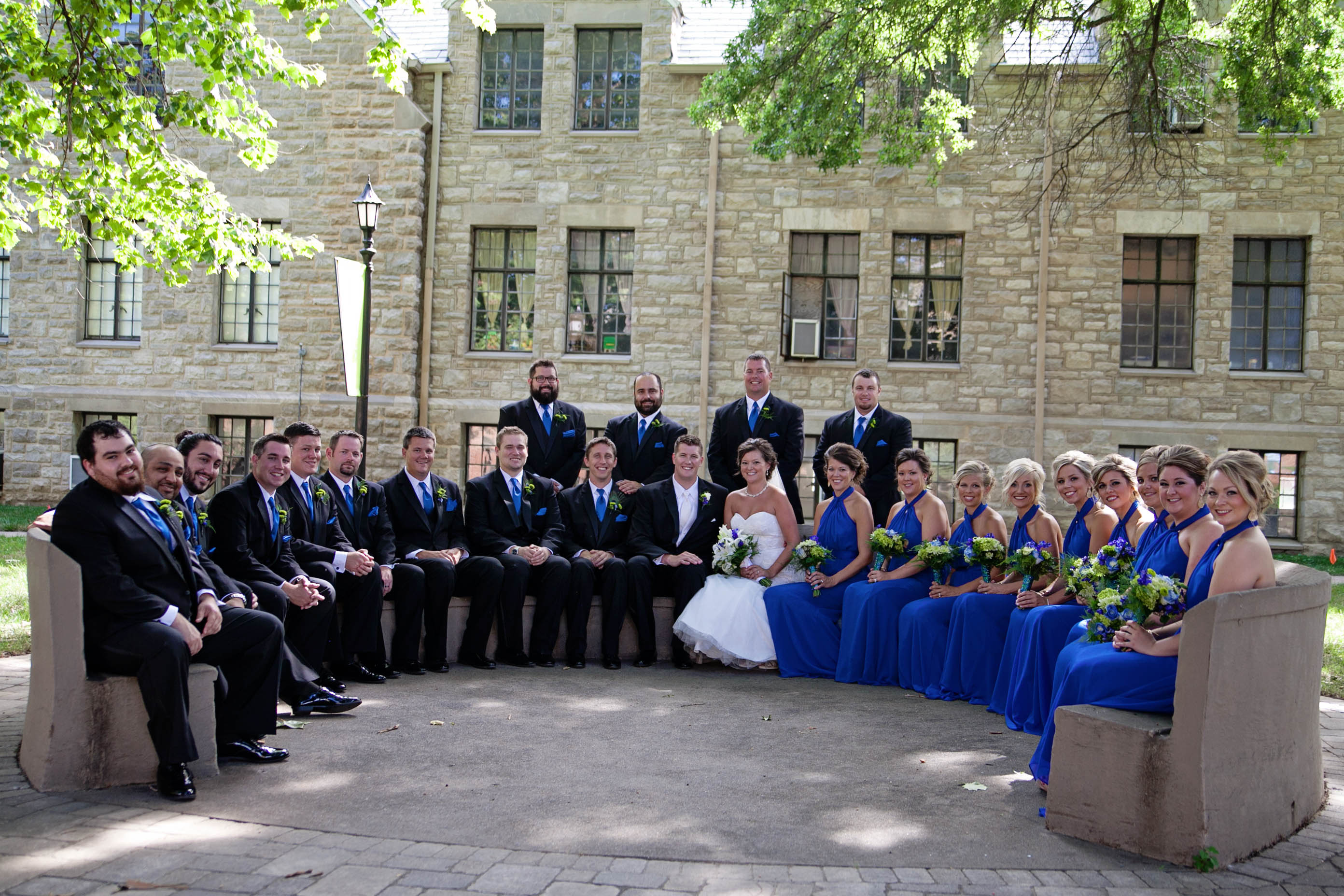 Chelsea & Jonathan Daniels
"My wife Chelsea Wallace and I met in the CMU band the fall of 2010. It really was love at first sight. During the first meeting of the band I remember looking to my friend and telling him about Chelsea and saying, 'that's the girl I'm going to marry.' Our first date we walked around Peters Lake talking up a storm. Being a local, I decided to drive her to nearby Lupus, MO to have more time to talk to her. As we were looking and talking about the uniqueness of the area, I realized this first date had been going on for nearly 7 hours and we had spent all of it getting to know each other. It was completely natural and organic, and the rest is history. We will be celebrating our 2nd year wedding anniversary this July. We have a lot to thank the mentors at Central for but the magic of CMU itself is priceless and we are forever grateful for it."
Hannah & Meredith Donnelly
"Meredith and I met in our sorority (Sigma Pi Alpha). We couldn't have been more different yet the exact same! Timing was everything with us, but looking back I wouldn't have changed a thing about how we got together. Now, 5 years later, we are happily married. Thank you, CMU, for bringing us together. I'm forever thankful!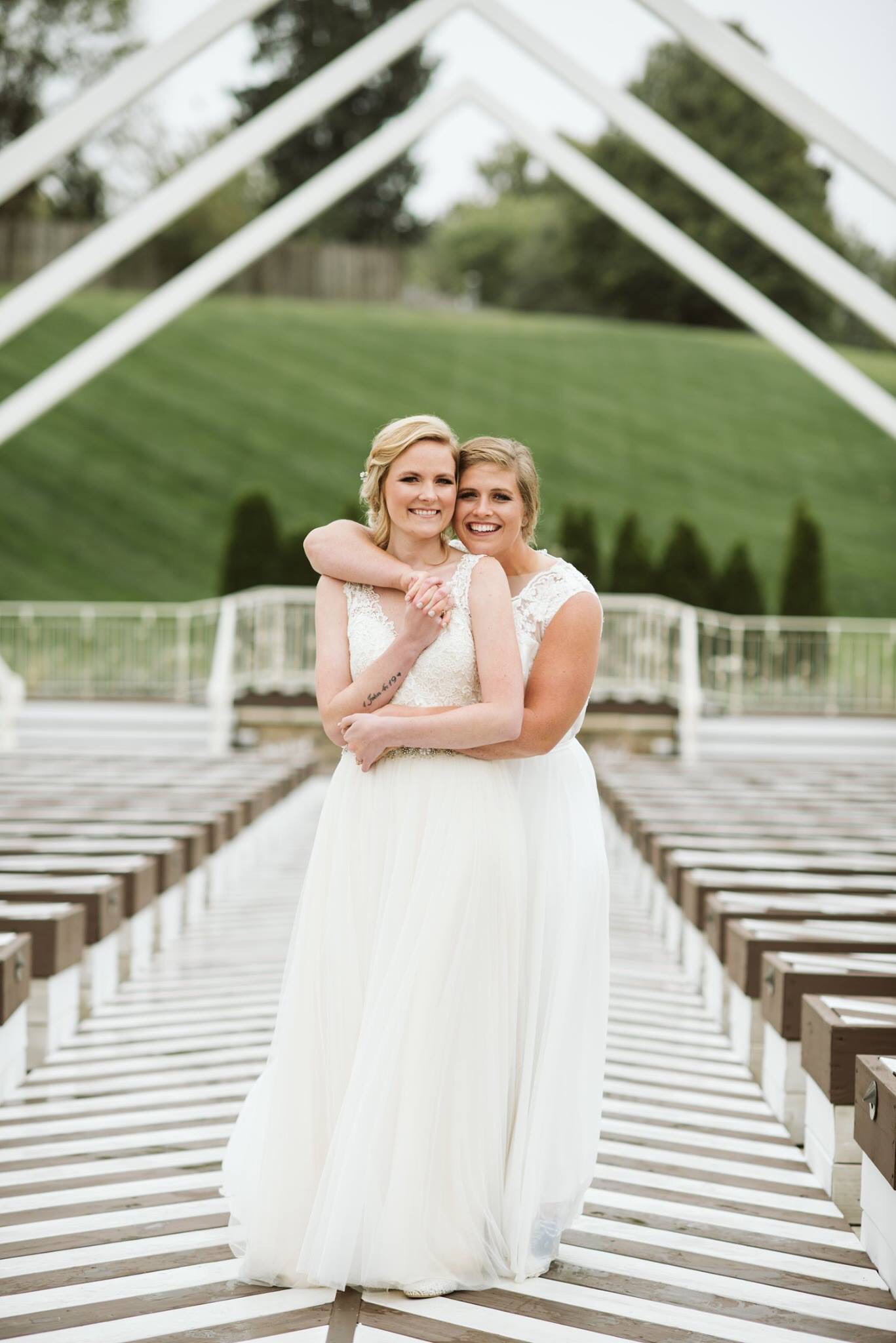 Camrun & Daniel Dey
"Daniel and I met on my first day on campus January 9, 2011. We were the furthest thing from love at first sight. Within 10 minutes of meeting we were in an academic debate over Greek mythology. He saw me as the know-it-all freshman, and I saw him as the pompous senior. Quickly, we realized we had all the same friends, and since we were both psychology majors we had all the same classes together, too. It didn't take long for him to become one of my best friends. After he graduated that May I didn't think I was ever going to see him again. I returned to school in August missing my friend but luckily, he was missing CMU, too, because he came back to visit shortly after classes started. We spent the whole night together laughing and hanging out. That was the first night he ever kissed me. We were slow dancing under the stars and he made me stand on his feet because I am the worst dancer ever. Five years later I got to stand on his feet once again at our wedding. Recently, we have added a beautiful little girl to our family. I couldn't imagine my life any other way. I am so in love with my family and I owe it all to CMU, the psychology department, and the Greek system."

Colby Davis & Bethany Freel
"So here's the background on Colby and I. We were both Biology majors at CMU. Initially, we had a few of the basic science courses together, but we didn't really know each other that well. Our junior year, we had Organic Chemistry together and our lab groups sat across from each other. Our groups would talk and laugh back and forth, but if you had told me that Colby and I would end up together back then, I would have laughed and quickly reminded you that she was out of my league. We became friends as more of our classes overlapped and she was my go-to study buddy for biochemistry. Fast forward to January of 2016 and somehow, we were dating. I wish I could remember every detail of how it happened, but everything just clicked at the right time and all of a sudden, my friend and study buddy was winning over my heart. Last week, we celebrated our three year anniversary. She is my Central sweetheart and my favorite reminder of how much CMU gave me."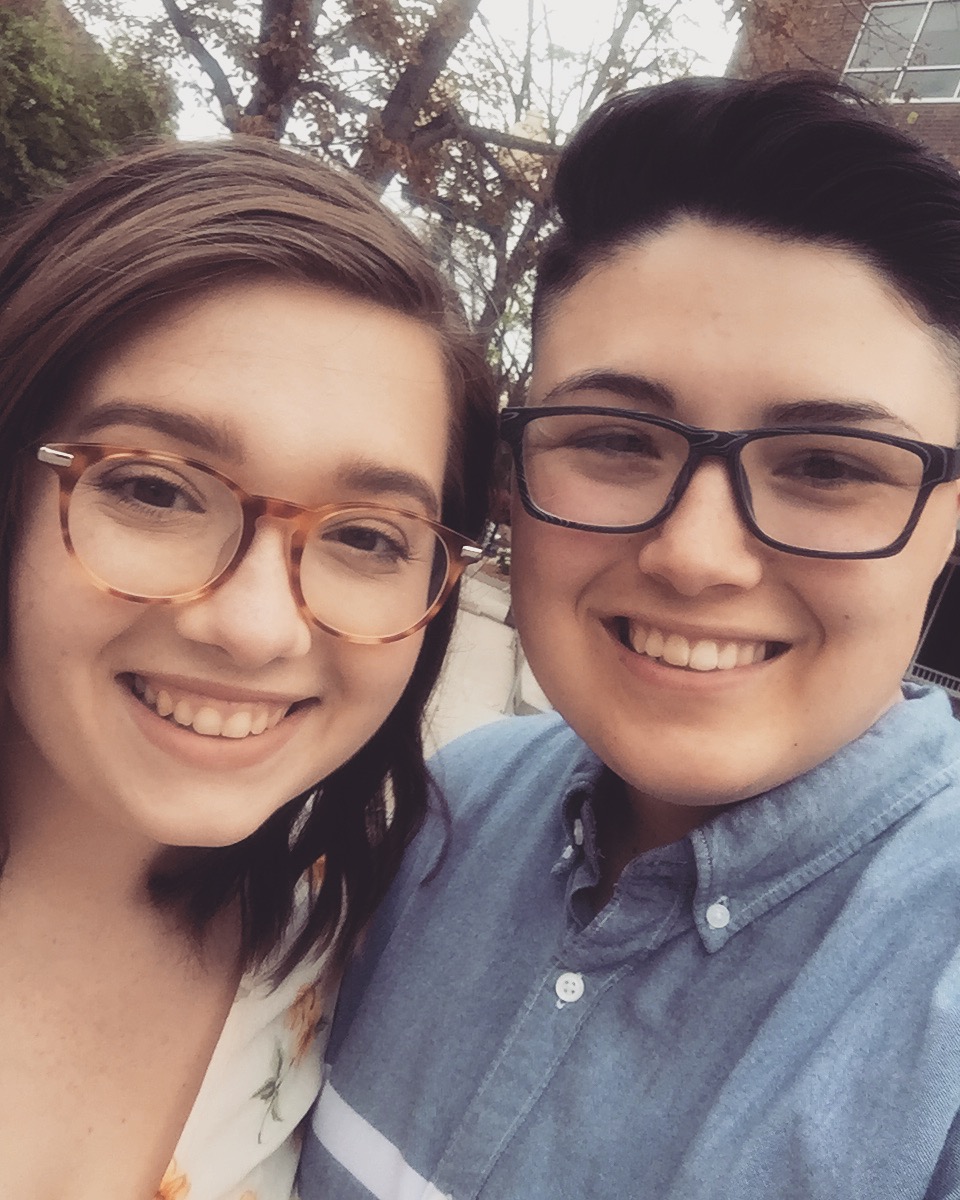 Shelby Dodson & Turner Smith
"We aren't married by any means, but I met Turner and CMU and now we have a perfect and beautiful baby boy."

Carrie Drake & Jack Goulet
"It was a cold winter Saturday evening. All of my friends had decided to go hang out that night since it was the first weekend of the spring semester. (2017) While standing in the kitchen, I saw an unfamiliar face walking towards me with the most beautiful smile. Nick, one of the guys I knew from CMU standing next to the unfamiliar face said, 'Carrie, have you met my friend Jack?' I replied that I hadn't met him and we shook hands greeting one another. Jack and I continued to talk the rest of the night going from topic to topic. I knew something was very different about Jack. We talked like we had known each other for years, cracking jokes and laughing like we hadn't just met a few hours ago. Towards the end of the evening Jack got the courage to ask me for my number. I accepted, putting my number into his phone. Jokingly I suggested that we take a picture so he would be reminded whose number it was. Now I'm thanking myself that I suggested it. The evening ended and he walked me to my dormitory door all the way to the fourth floor of McMurry Hall. Standing at the door, Jack leaned in and kissed me good night. A kiss that I remember telling my mother about and convincing her firework kisses really do exist. Little did I know that night, Jack would be the one to stand at the altar with me and say 'I do' this May in the beautiful church on campus where our love all began. Jack and I always talk about the choices we have in our life to make. I truly believe that God guided our choices to meet one another that January night. The first night we met. January 21, 2017 (the first week he transferred to CMU) Jack proposed in front of Linn Memorial Methodist Church on June 29, 2018. Our engagement pictures taken by Bailey Fidler, a CMU Alum. Jack Goulet is a senior Criminal Justice major from Palmdale, California who transferred his sophomore year from Antelope Valley College to play football at CMU. I am a senior nursing student, and have been at CMU all four years. We both plan to graduate May 11, 2019 and to get married May 26, 2019."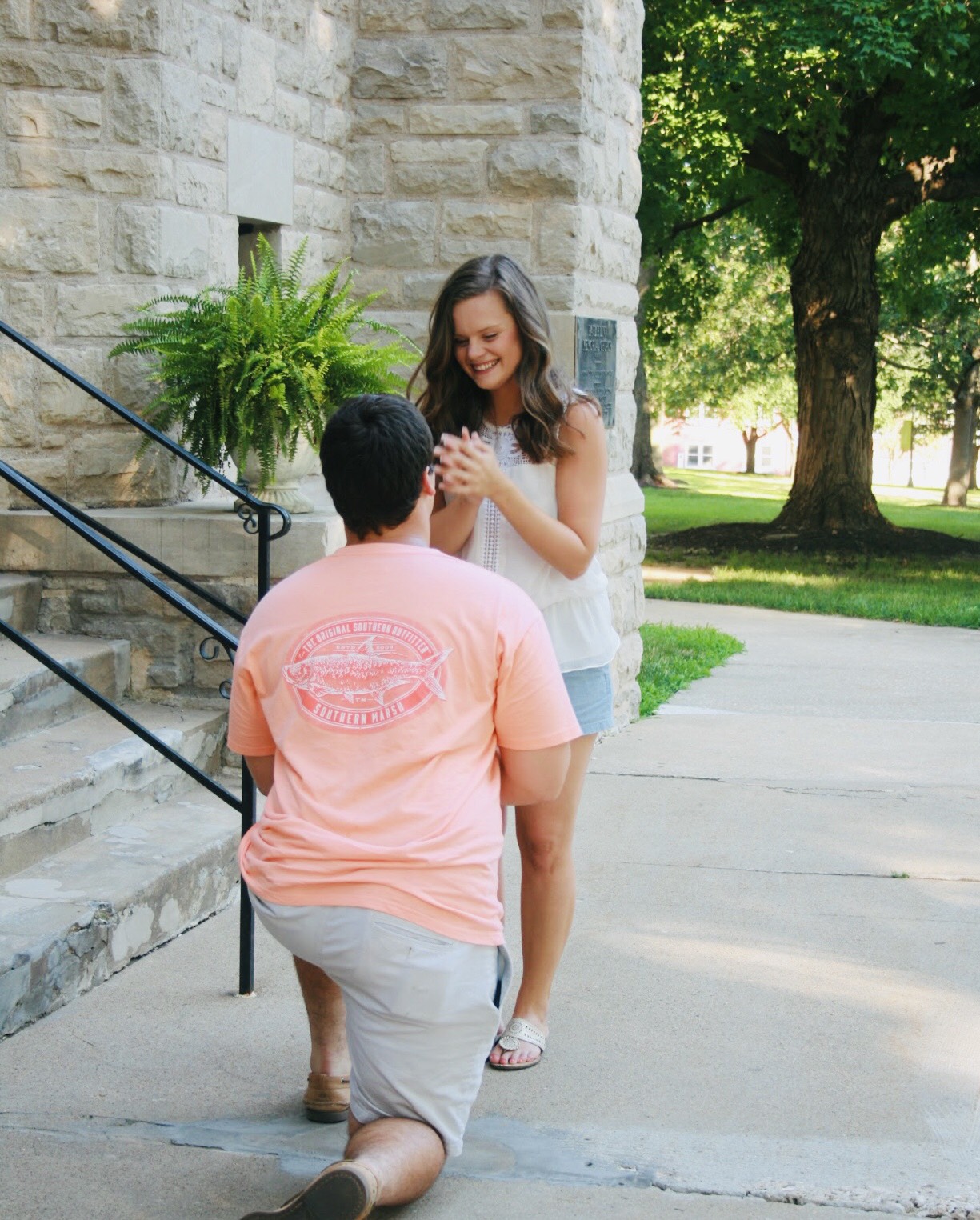 Judy & Dr. Roger Drake
"I was set to start my tenure at Central Methodist University on July 1, 2013 and my two mentors were presidents of Methodist colleges. They both told me that it was the way of a Methodist college president to have my marriage blessed at midnight by the campus chaplain. On Sunday, June 30, a Sunday we were at church in Linn Memorial, I spoke to Lucas Endicott, who was the pastor at that time, and we asked that he meet us under the clock tower at midnight. It was a beautiful, still night and the prayer Lucas said was perfect. I noticed that across the quad there were two young people setting on the porch of the library who witnessed our moment. Dori Waggoner was the only person that knew about our vow renewal. The next morning, July 1, my first day, I got an email from Dori. I was thinking it would be very important, however, the email from Dori said 'I got an email from some recent May graduates that said they were on campus and saw the most 'adorable elderly couple' getting married under the clock tower."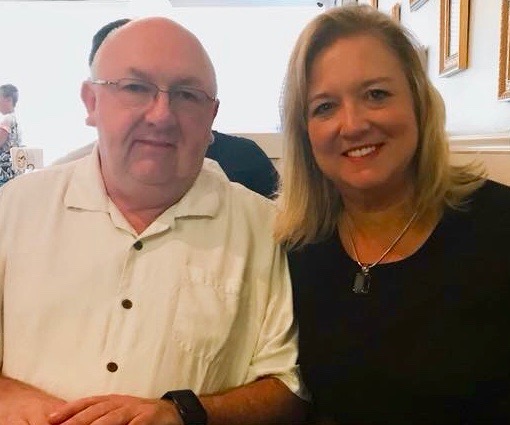 Natalie & Andy Dreyer
"Andy and I met our freshman year in speech class. I had always had a crush on him. Fast forward to junior year when Michael Yetman and Jeremy Manning gave Andy the nerve to ask me out. Fast forward to my master's graduation and Andy led me through a scavenger hunt on campus and proposed on the football field. Andy was a Football player and TKE, and I was a soccer player and Sigma! CMU will always hold a special place in our hearts!"


Peggy & Chuck Fisher
"Chuck and I met in this very room (Stedman 200) at a mandatory safety in the laboratory lecture in the fall of 1979, married 35 years ago. So many happy, wonderful memories at CMC (CMU)."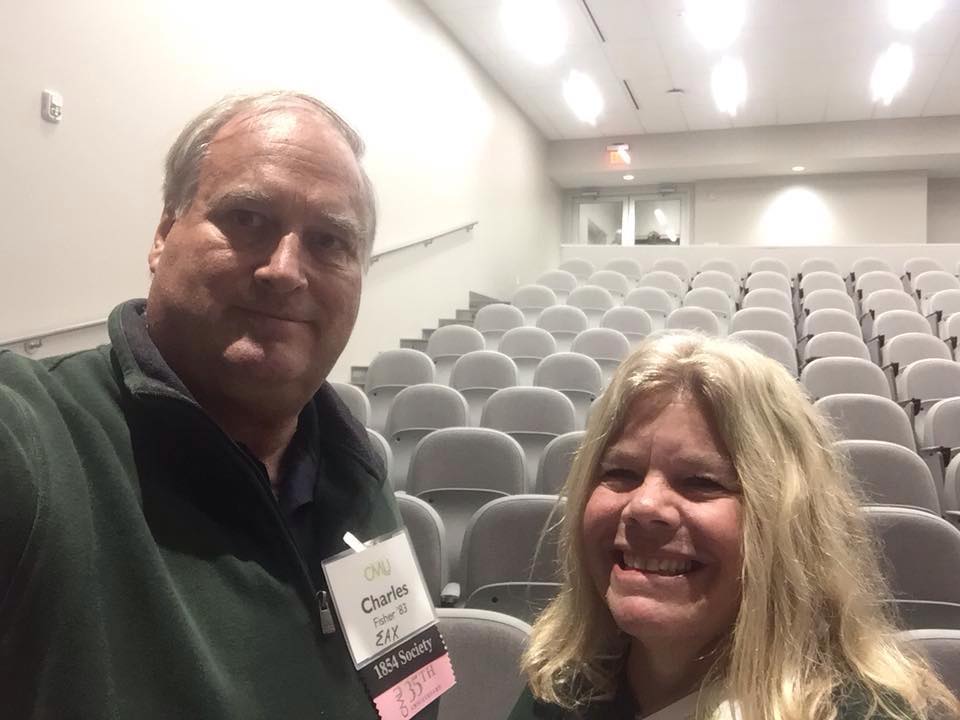 Amanda & BJ Ford
"BJ & I met his sophomore year & my freshman year (2009) in a math for elementary teacher's class; we got engaged on campus in 2010 and got married in May 2012. We now have two wonderful boys! Owen (3) & Evan (1)."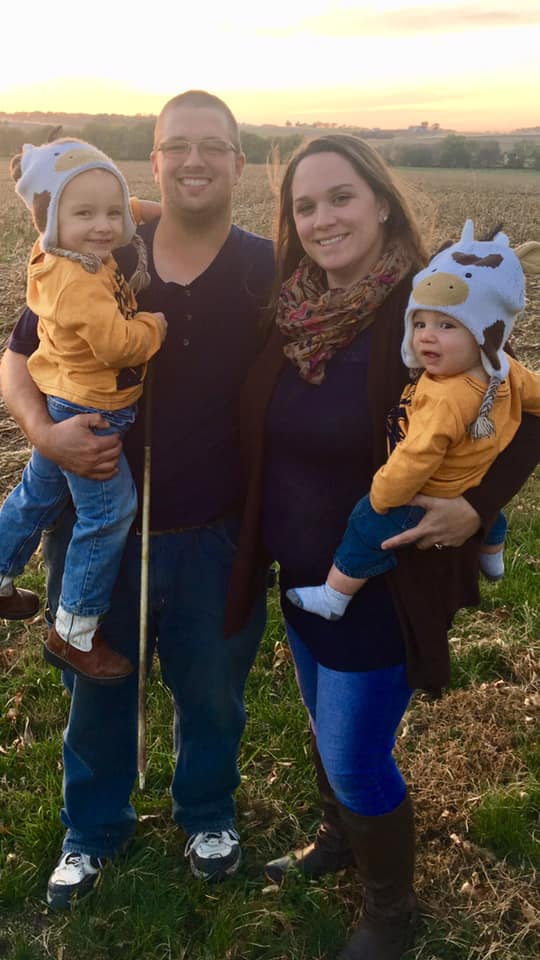 Jo-Ellen & Kent Forrest
"I met my husband, Kent, at Central our sophomore year. We were married after we graduated in 1964. This August it will be 55 years."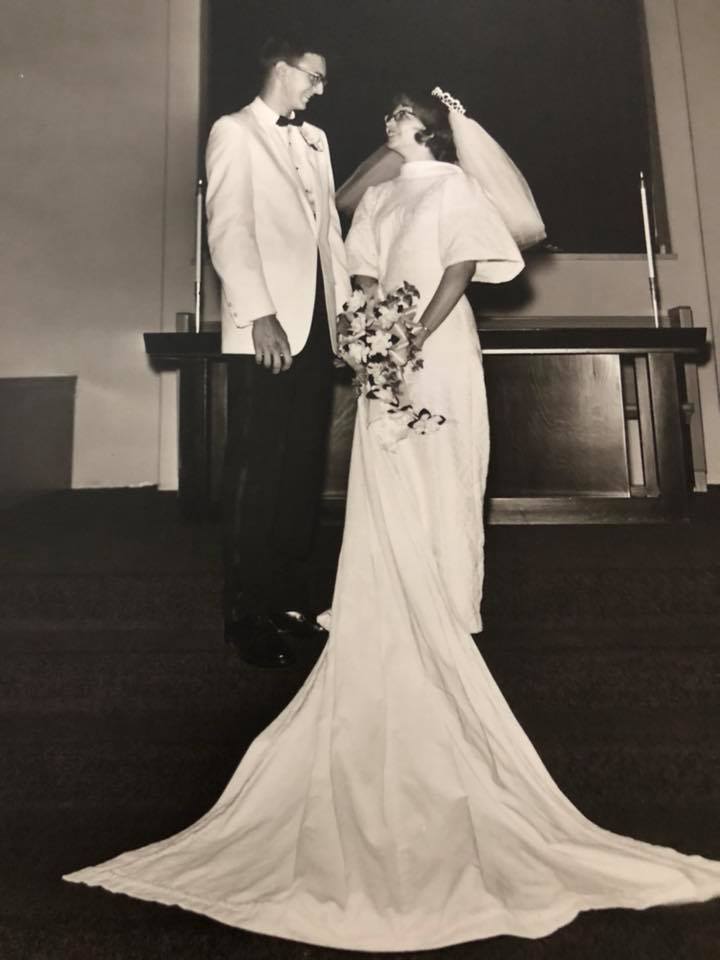 Laci & Justin Gerald
"We started dating in February 2007 at CMU! We have now been together for almost 12 years, married going on 9 years, and have 4 children!"


Lacey & Ben Gladden
"Ben and I started marching band camp together in 2010 (he was a percussionist and I was a drum major). We had a lot of fun as friends for 2 years, but started dating in 2012. I had already graduated and moved to Kansas to get my master's degree, but decided to move back to Fayette (my hometown) to live and work (at CMU!) while Ben finished his degree. After he graduated, we decided to stay in Fayette. He proposed to me under the clock tower in 2014 and we were married in Linn Memorial in 2015! We have one son, Clay, and love living in Fayette!"


Sarah & Lance Gleize
"My husband Lance and I were both music majors when we met initially. He was a guitar major and I a piano major. We were just acquaintances while at CMU as he was only there a short time before he went to Juliane in New York, fast forward to 2012. We reconnected and Central was what brought us back together once we realized we were in the same classes and had mutual friends. 2014, we got engaged and married and are happily married with two fur babies."


Chris & Barbie Glidewell
"Barbie and I met her freshman year during band camp. She didn't talk much, I talked all the time. Prof. House kept putting us on recital together to play duets. As neither of us were music majors I was always baffled about that. Maybe Prof. saw something before we did. We were married on campus in 2002. In this last duet, we didn't need our trumpets. Barbie added, I went out with you because I lost a bet about the Super Bowl. Best bet I ever lost!"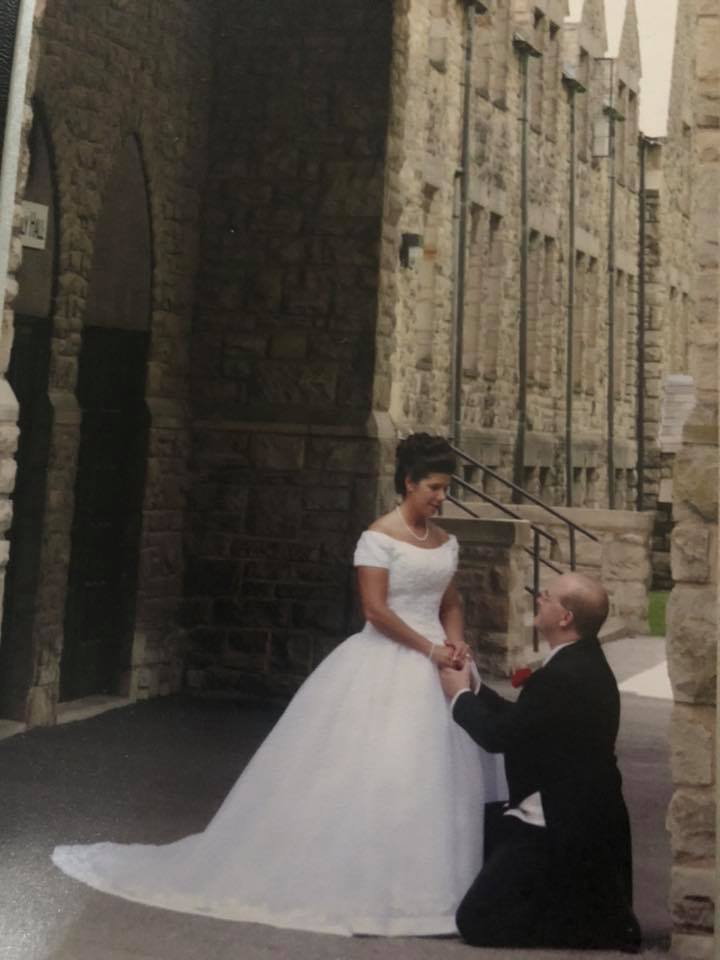 Nikki Giovenco & John Fuller
"John Fuller and I (Both CJ majors) met through friends as sophomores (2013) at CMU in Howard-Payne. We had dozens of friends in common since we were both student athletes (football and softball). He moved down to Tampa, FL with me after we graduated in 2016. We have been together for over 5 years now and got engaged in December 2018. Fayette and CMU will forever be part of our love story."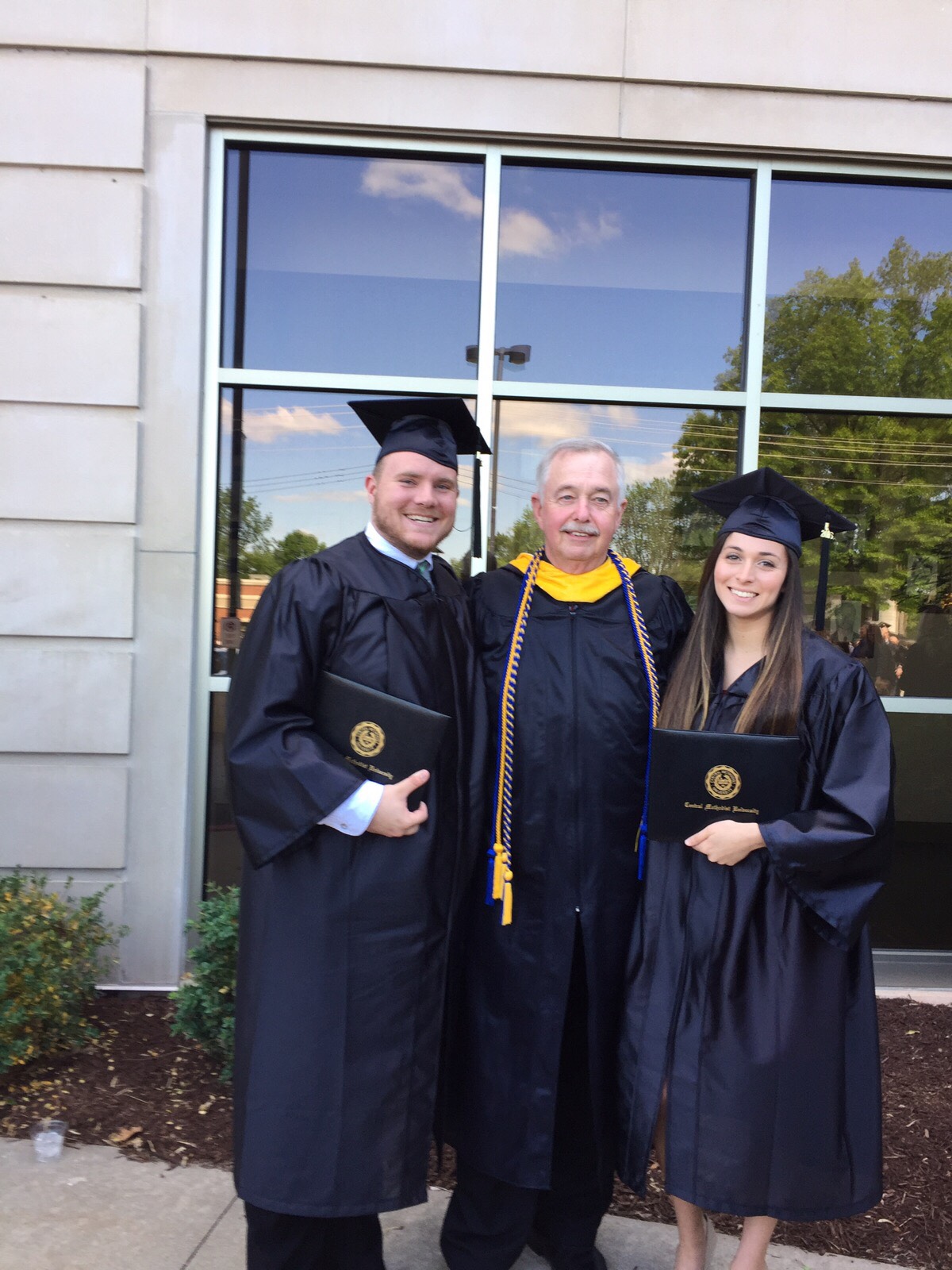 Becky & Chris Grahn-Howard
"Chris and I started dating my sophomore year (1986) - his junior year. Married in Linn Memorial by Rev. Ron Page in 1989. Celebrating 30 years married in August! Chris added, our first meeting was when she was lost in campus as a senior visiting the campus. I escorted her and her family to the Conn."


Taylor Grellner & Kyle Schenewerk
"Kyle and I met a few times through mutual friends while in high school but our relationship started after meeting again at Central our freshman year (2011). We were in the orange orientation group together and quickly became good friends. We started dating that October! During our time at Central, we both joined Greek life (Spring 2012). Kyle played soccer and golf and I worked at Emmet's. I graduated in December of 2014 and walked the following May when he graduated (photo attached). Since graduating we've moved back home, bought and renovated a house, and got engaged. We are getting married December 7, 2019 and several of our friends from Central will be in our bridal party! Our love story began at CMU!"


Jeremy Gremminger & Emily Hodges
"I met my favorite lady at CMU."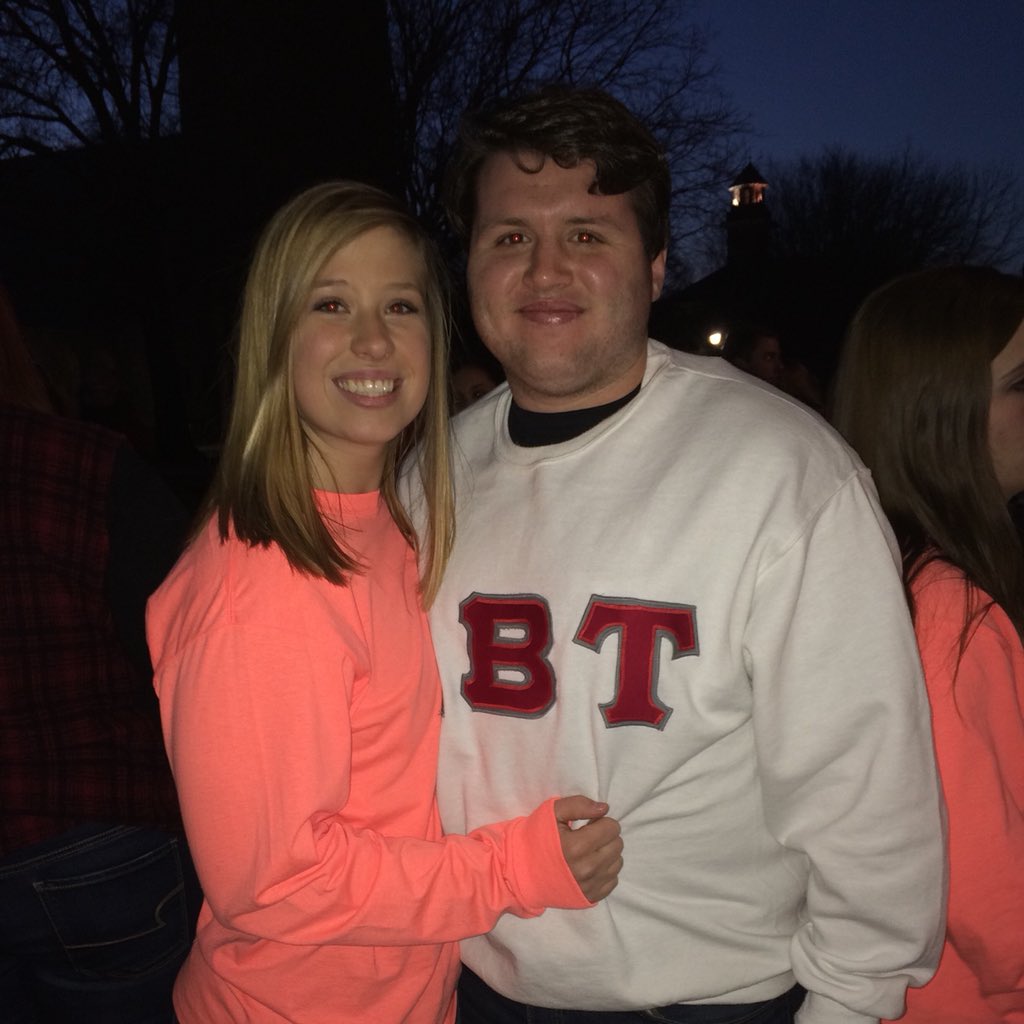 Leah Gwinne
"Met my husband of 27 years there. We met in Doc R's logic class, of all places!"


Amy & Scott Haberkorn
"I am front loading my daughters email which I have attached with my own CMC/CMU love story. Both my husband (Scott Haberkorn) and I come from St. Charles, Missouri which is on the outskirts of St. Louis. During our freshman year of school we knew who each other were, because you really can't grow up in St. Charles without knowing who everyone is, but we didn't really KNOW each other. We would see each other at lunch in Mabee Dining Hall and he would always scoot to try to stand next to me. He still comments on the ridiculous sweat pants I wore, every. day. to eat! He would also try to catch my attention in silly ways while at CMC sponsored movies, or at Homsies. In the summer of our sophomore year we both had to be at school early for sport related events. He played football and I was on the dance and drill team. We danced all night at an event at the lake, he told me I was a princess and right then and there, we were a team. In our senior year, we found out we were having a baby. Which scared us! We were young and broke. In December, that baby, turned into twins and when Christmas break was over they went to CMC to live with us. Scott was a member of the Delta Sigma Psi Fraternity and I was their Sweetheart and I can't express how awesome it was to see all of his fraternity brothers' band together to help put together a babysitting schedule for us! They took it so seriously that they would even put paper towels on the ceiling fan to keep the girls happy! We are still in love today and were not mad at all when Toni wanted to attend CMU! We knew it is a place where families and love start!"


Allison & Lynn Haase
"My name is Allison Garst Haase '98 and my Husband Lynn Haase, Jr '98 both met on Central campus. I was a Delta and he was a Delta Sig (that is no longer there – they changed to TKE). We have been married for twenty years and have one 18-year-old son. I'm glad I met him."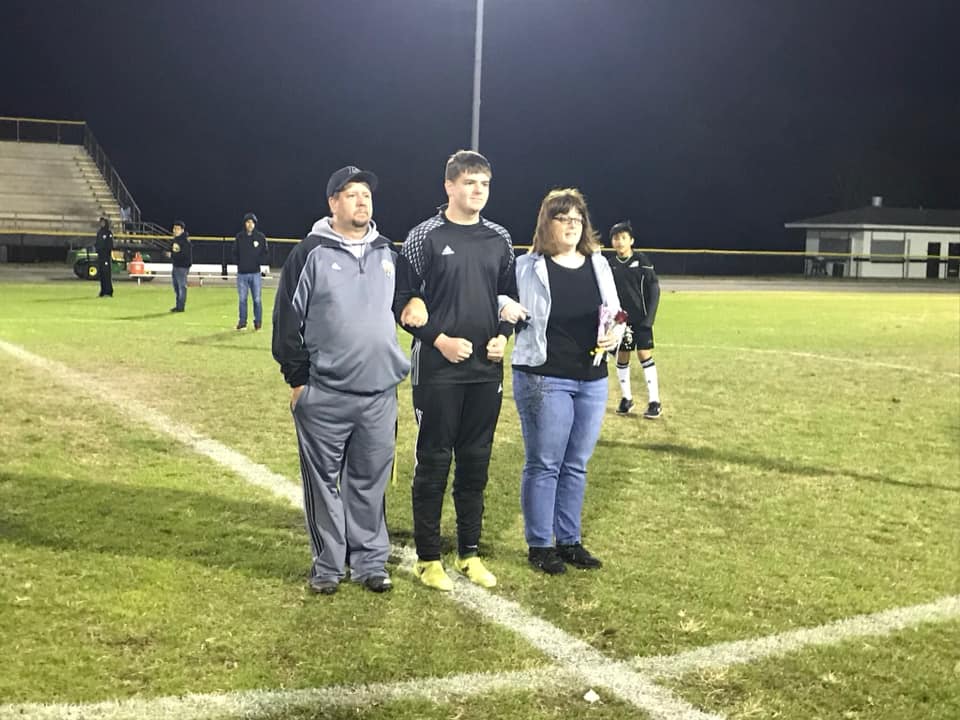 Kaylee Hemi & Tyler Karnes
"Tyler and I met through Greek life at CMU. I was a Sigma and he was a TKE. We were both Elementary Education majors and had several classes together. We started dating in 2013, engaged in 2017, and will be married this June. We are forever thankful to CMU for crossing our paths."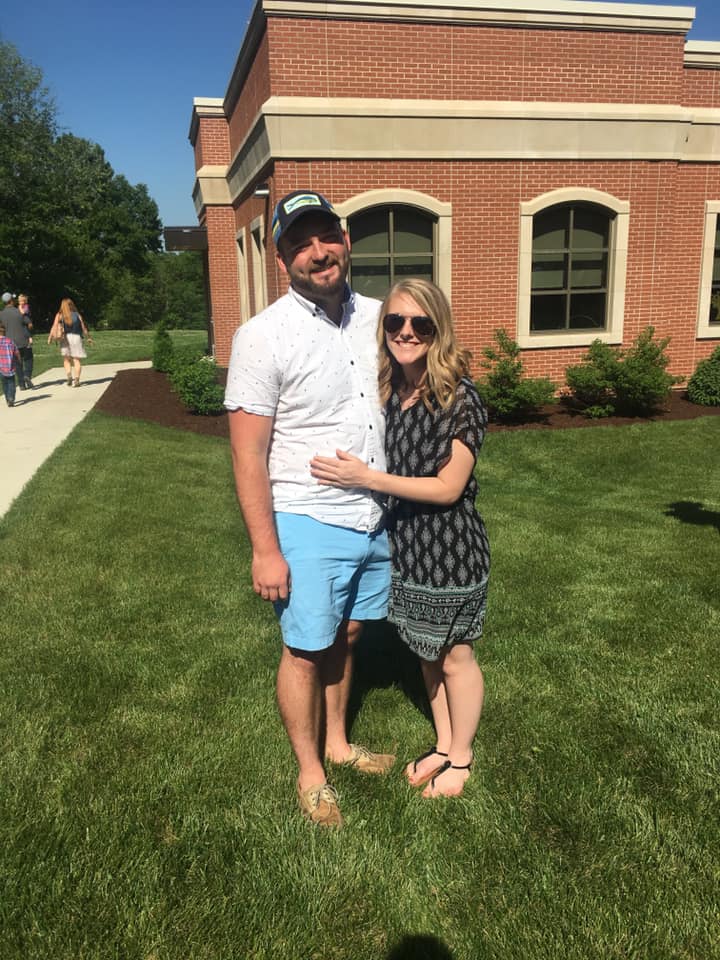 Raelynn Henson & Logan Vogel
"I met the love of my life the first month of being at college. We met when I was rushing Greek life and it was just sparks from the beginning. We were so different but so the same and it has worked for us since August of 2016! If I had not joined my sorority, I would have never came across such a gentleman on campus!"

Amy & Jeromy Hodge
"The first thing I thought when I met my husband Jeromy at Central was 'we could never be friends' and 'I hate his last name.' Well... God has a sense of humor, because we are celebrating our 20th anniversary next Dec. We had mutual friends, and it turned out, that we were able to be, too. Our love story actually developed in my last year at Central, but everything about US couldn't have happened without Central in our lives. I did my last final of the fall semester on Friday, got married in Linn Memorial on Saturday, and we immediately moved our things into married student housing, so I could complete my last semester. Our wedding itself was as Central as it could be. The Dean of the Conservatory walked me down the aisle, 3 professors, and a few music students all sang/performed at our wedding. We had a reception in Eyrie Student Union, with the best Jazz combo (including the Dean of the Conservatory, Doc Shroyer) on deck playing. President Inman came and tearfully hugged us both. It was as if all of Central made our day what it was. My whole family was there, and by that I mean my whole Central family. Every special moment I can think of in our early years has Central prominently in the back drop. For our last anniversary, we had no idea what to get each other. We finally came up with the perfect thing....we got brick in front of Stedman with our anniversary date. What better place for that to be. To this day, people still talk about our wedding... almost 20 years later. It's not because we had a grandiose party, or a expensive affair. It was beautiful, but it wasn't that at all. It was because everyone from Central pitched in to make it happen. I will always keep that in my heart. Part of the reason we exist is all because of the embracing magic of Central."




Olivia & Nick Hopkins
"Nick and I met on campus in January 2009 in Holt Hall. He was TKE and football player, and I was a Zeta and volleyball player. We married in 2011 and have 4 beautiful daughters today."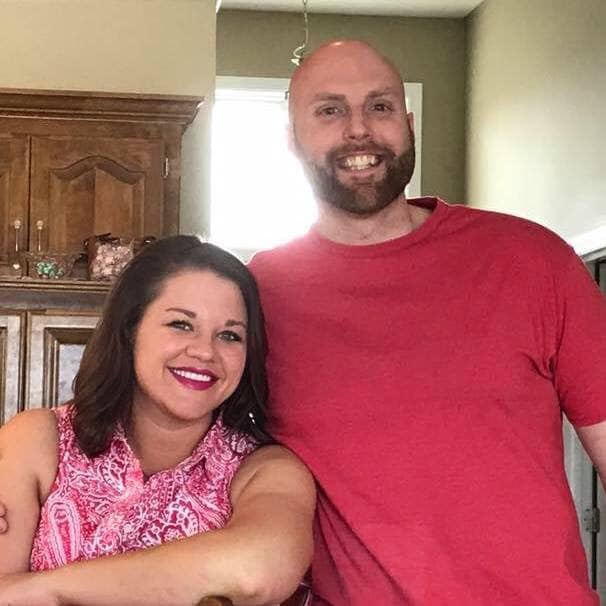 Katelyn & Alex Hunter
"I met Alex Hunter my freshman year, his sophomore year (2011). Started dating the following August, moved to KC together post college and got married October of 2017!"


Kate & Chris Ivy
"Chris and I met in 2010 in Dr. Mark Kelty's Basic Principles of Theatre class. I was a theater major, and he was just looking to fulfill a fine arts credit! We connected through an audition workshop assignment. Everyone in class had been assigned partners; mine didn't show! Thankfully, Chris had showed up early in an effort to weasel out of the assignment. Dr. Kelty made him audition anyway as my partner. From then on, we were essentially inseparable! The C Bench played a huge role in our relationship; it's where Chris first asked me on a date. Four years later, on a very cold and rainy Bid Night, it's where he asked me to marry him. In July, we will celebrate our 3rd wedding anniversary and come October we will have been together for 9 years! We are forever thankful to CMU, and Dr. Kelty, for bringing us together! Chris Ivy, Class of 2013 and Kate (Kellner) Ivy, Class of 2014."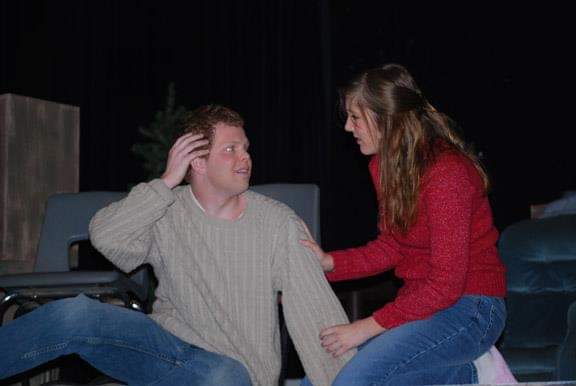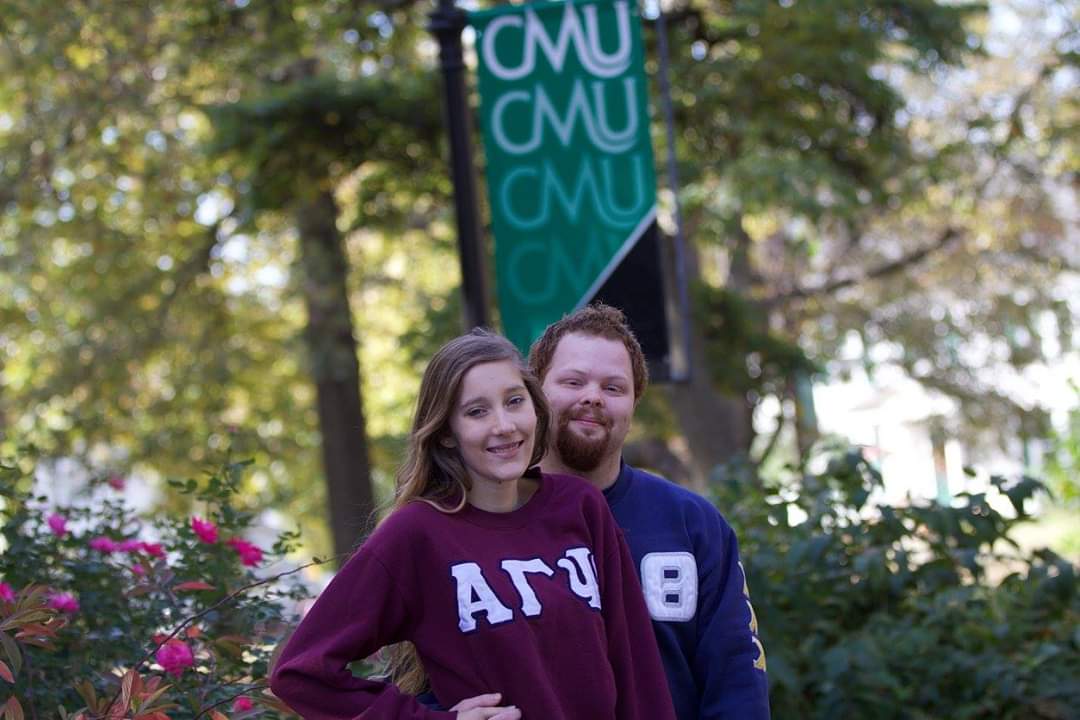 Caryn Jackson & Micah Jeffries
"Micah Jeffries and Caryn Jackson met at CMU in the fall of 2011. They had no classes in common, just a few similar friends. They would pass each other in going to class and would get such intense butterflies, before ever saying hello. It was truly love at first sight. Though Delta Pi Omega, Chi Delta, and late nights as he joined her for RA duty, they fell in love. Caryn and Micah will be married this August and just celebrated their 7th anniversary as a couple. They have two dogs and one cat. Caryn is still with CMU as an Admissions Specialist for the College of Graduate & Extended Studies as well as the Color Guard director."


Ashley & Daniel Jacobs
"Daniel and I were partnered together during athletic training physicals my freshman year and his sophomore year (2008). We hung out and were friends for a year then in 2009 we started dating. Even though we both changed our majors we were glad that we both started in Athletic training because it brought us together. We got married in 2014 and will be celebrating our 5-year wedding anniversary this year."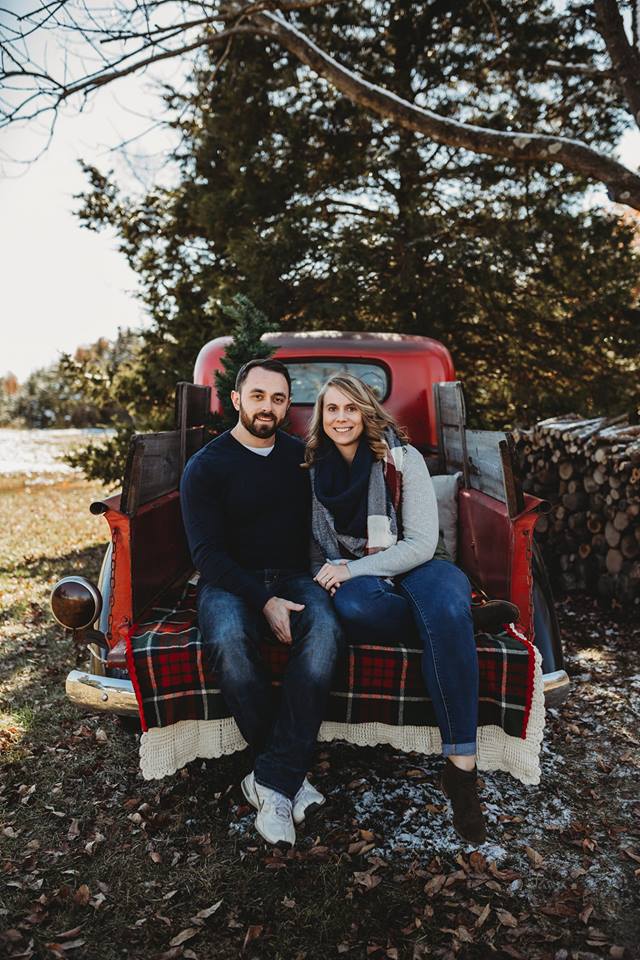 Emma & Parker Johnson
"We met at CMU in theater and started dating in early 2015. He proposed last March, almost a year ago now. The picture taken was after we got legally married on The Little Theater stage. We are having a big ceremony and reception this coming November!"


Tracy & Steve Jones
"In 1988 my sister, Win Crowe Nore '91, went on a Janaway to England. Also on that trip was Steve Jones '94, then a sophomore in high school. His mom, Nancy Jones, was a professor in the Conservatory. While on that trip my sister told Steve that she had a sister he would really like, The summer of 1987 I was in a program run my Jamie Page '84 (?) called On The Road. The year prior, Rob Noren '90 participated in the same program and I met him while we were on tour. With my sister going to Central in the fall I told her there was this guy named Rob who she should get to know. Early in the fall of '87 Rob saw my sister in the cafeteria and was drawn to her. They began dating. A couple of months later they were in her dorm room and she was playing the tape my from my tour of On The Road. Rob asked about it and my sister told him her sister (me) participated in the program. That was when Rob realized Win was my sister. Go forward to the fall of '90. As we entered school, Steve and I were involved in several of the same activities at Central. He asked a friend who I was and he was told I was Win Crowe's sister. His response was, 'No. That girl,' and he was told, again, I was Win Crowe's sister. This was difficult for him to believe because we were so different from each other. We immediately became close friends. Steve and I competed, in a friendly manner, for many things - including running against each other our sophomore year for Student Government vice-president. He won. We returned to school at the beginning of our junior year both unattached and we decided it was time to start dating. Also that fall there was a change in officers in SGA and I re-ran for vice-president as Steve became the president. This time I won and our first year dating we served together in SGA. Early on we knew we wanted to get married and when we wanted to get married, but didn't want to have a long engagement. So, we went ahead and booked the Linn Memorial for the day before graduation, which was the same day and location three years earlier my sister and Rob were married. We swore the church secretary, Ruth Spayde, to secrecy. In August of 1993 Steve and I were engaged and we married on May 14, 1994. Without much effort on either of our parts my sister and I "set up" each other with the men who eventually became our husbands. Win and Rob have now been married for almost 28 years and Steve and I will be celebrating our 25th anniversary in May. Attached is a picture of the four of us."


Alex & Zach Julian
"Zach and I met my freshman year of college in 2009. He is a Moker and I am a Zeta, with mutual friends, we stayed in touch after he graduated. In 2012 we started dating, and then in 2017 we were married. If we lived near Fayette, I feel we would have been married on campus!"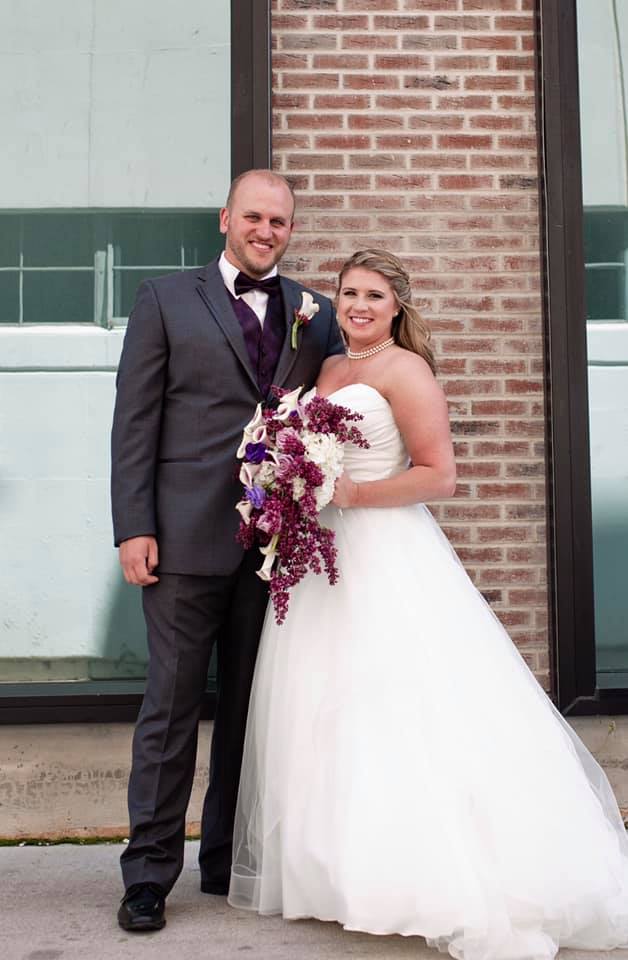 Pamela & Vaughn Loomis
"My husband, Vaughn and I met in religion class in the late 80's. He had on Lakers sweats. They were my favorite team, so I sent him a note about liking his sweats. We got married in the church on campus in May of 1991. We lived in married student housing until we graduated. Many years and two adult children later, and we still hold Central close to our hearts."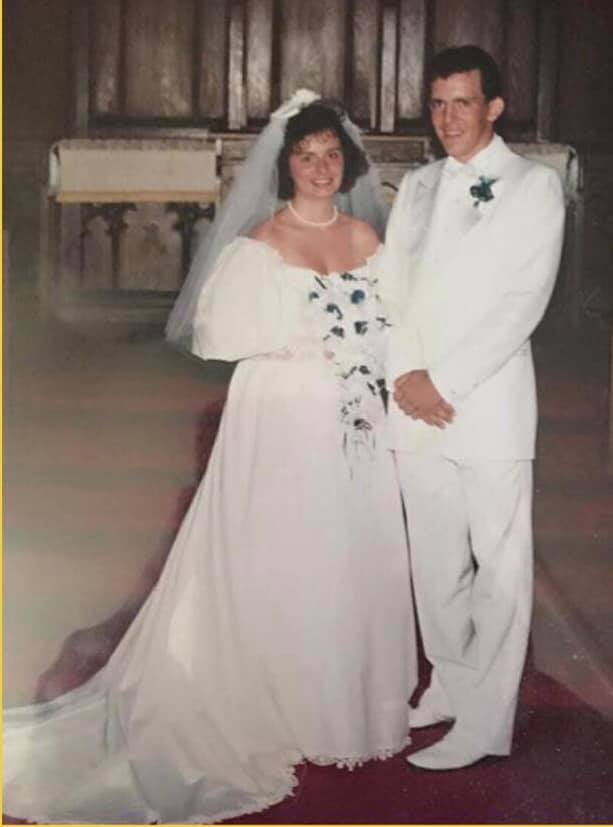 Dr. Geoff Macy
"I met the woman of my dreams in 1994 at CMC and we have been together ever since. Thank you Central for bringing us together."

Julie & Ricky Massana
"Ricky ('13) and I ('14) met in 2010 and started dating in 2011, married in 2014. We were both Business majors and so he offered to tutor me in Accounting. After seeing him patiently tutor me it was at that moment I knew I was in trouble (ha!). He's a Moker and I'm an Alpha. We both were in Enactus, Phonathan, and International Eagles together. 8 years of friendship and almost 5 years of marriage. We did a family portrait session wearing our Greek letters proudly with our daughter. CMU will always have a special place in our hearts."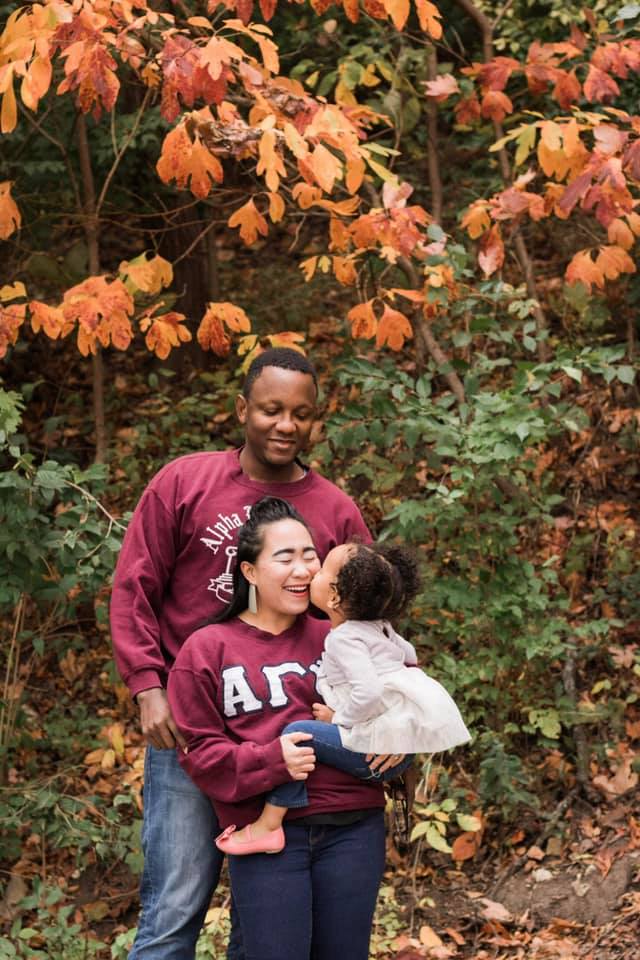 Abby & Morgan Mayer
"I took a pretty cute Beta football player to my Zeta formal in 99! We dated for over 3 years and were married in 2002. We have 4 daughters and a blessed life! I thank God every day for Morgan Mayer, my CMC sweetheart!"


Traci & Fred McCush
"We met in 1992 Freshman class, started dating in 1994, graduated 1996, married in 1998. Two kids and twenty years later!"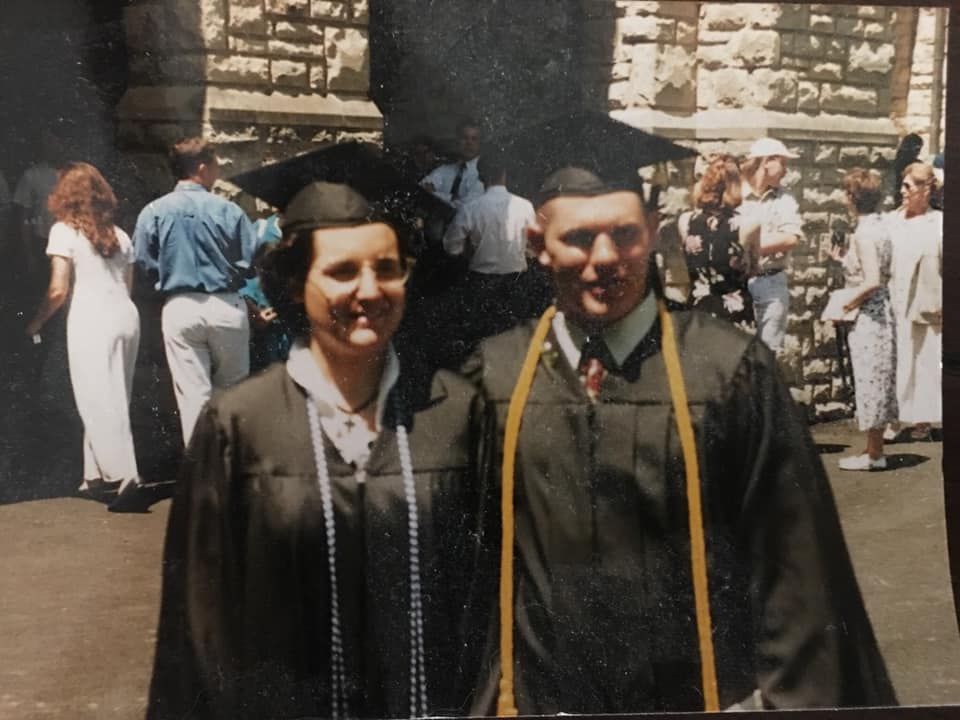 Amy Meyers & Kyle Tapp
"My boyfriend and I have been together almost 7 years now. CMU blessed us in so many ways."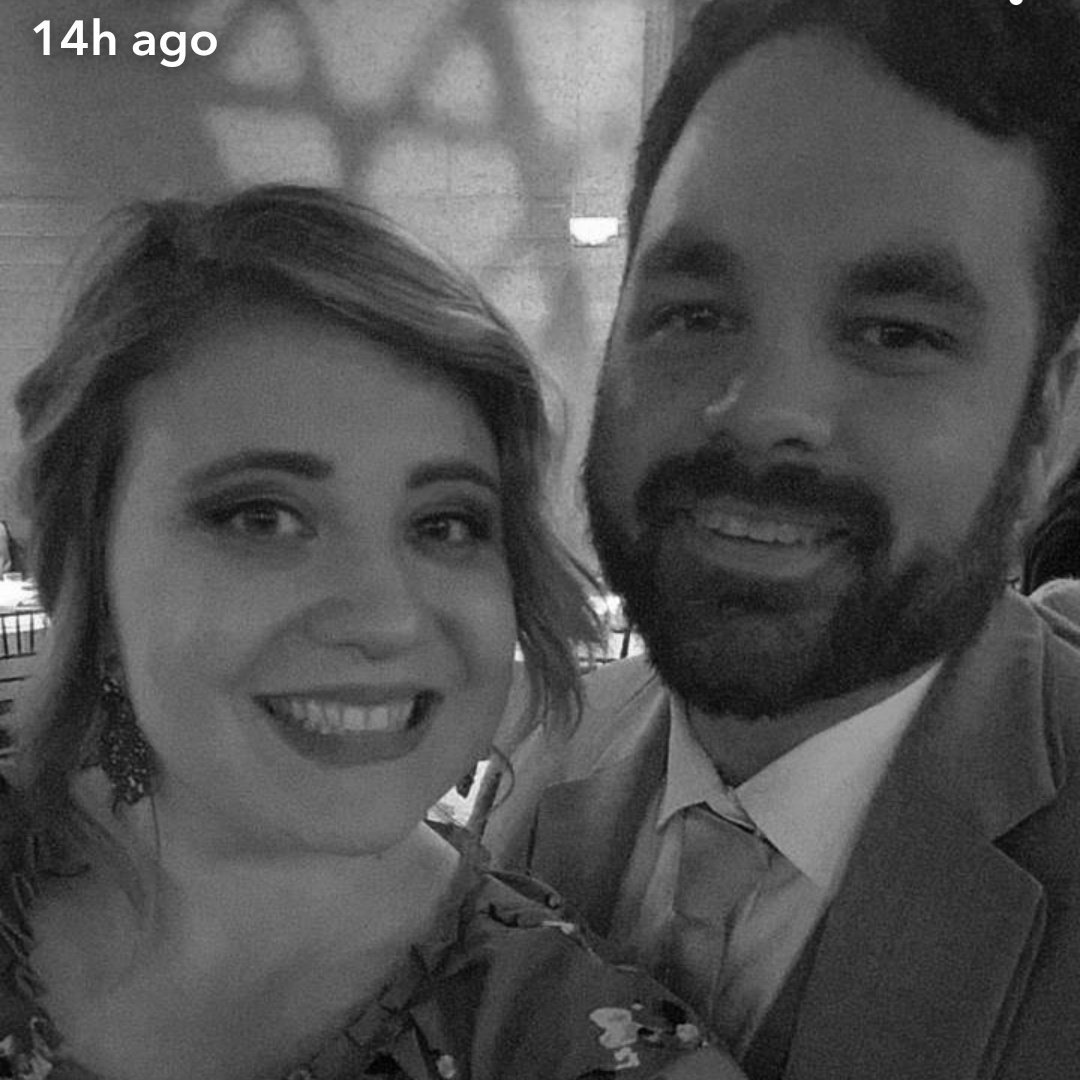 Melissa & Dallas Mitchell
"Dallas proposed at Melissa Mitchell's Central Methodist University graduation."


Natalie & Chuck Moore
"Chuck and I met in marching band my freshman year and his junior year as he had just transferred in. Freddy Allen (maestro pianist) set us up! Now we're both music educators and married for 27 years! Very fond memories."


Joelle & Matt Morris
"Nearly 28 years ago, I ('93) needed a date to Delta Hayride. My friends talked me into asking the sweetest Moker, Matt Morris ('94). After 23 years of marriage and 3 children, I'd say it was a good call! Here's a pic of us on that 1st date and one of us at CMU Homecoming last fall."


Dianna & Michael Murmylo
"Michael and I met in 2006; our junior year at CMU. We ran in completely different circles, because I hadn't even seen him around campus until a mutual friend introduced us. Michael was attending CMU on a baseball scholarship from Canada. I was there on a soccer scholarship from Kansas City. He was active in Gamma Sigma Epsilon, the Chemistry Fraternity and I was active in Sigma Pi Alpha. We both graduated in 2007; Mike with a BS in Chemistry and I with a BA in Communications. We are now living in Kansas City, MO and have two boys: Jackson (8) and Colton (4). Mike is working as a Chemist and I'm a systems specialist for a property management company. We have fond memories from CMU."




Julia & Bobby Murmylo
"Bobby ('13) And I ('14) met through mutual friend, Aaron. Greek life kindled our friendship, I rushed Delta in 2010, a few years later Bobby rushed Sig Alph. We started dating in 2013. Married in 2015. And welcomed our first child in 2018. The memories and friendships we made at CMU hold a special place in our hearts."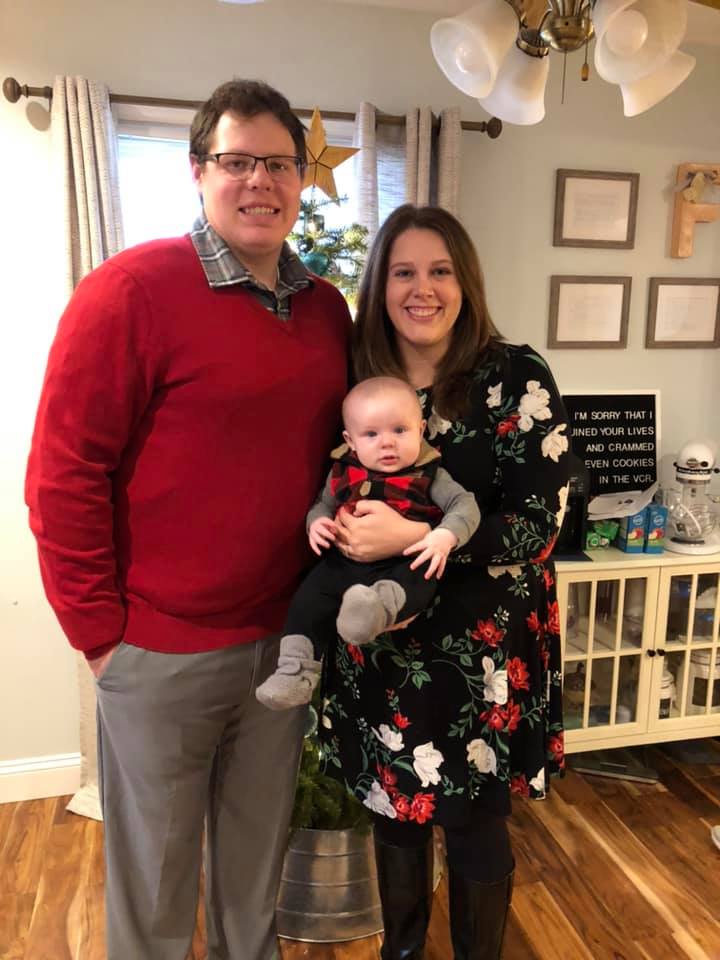 Jacqueline & Derek Musgrove
"Derek and I met on the track team (2012) and have been together since. Married for seven months."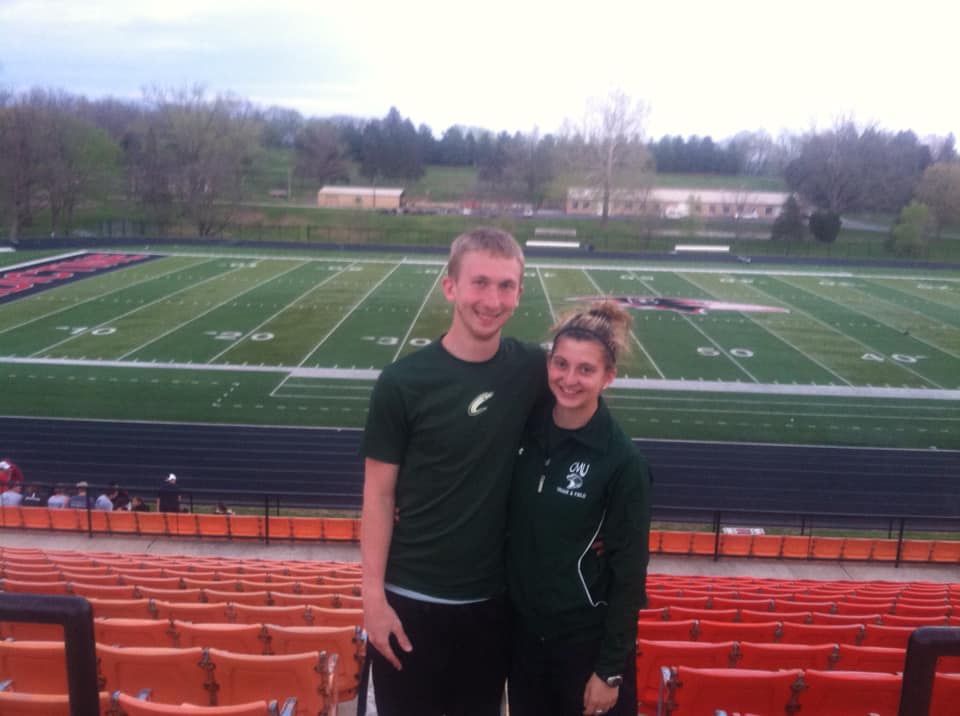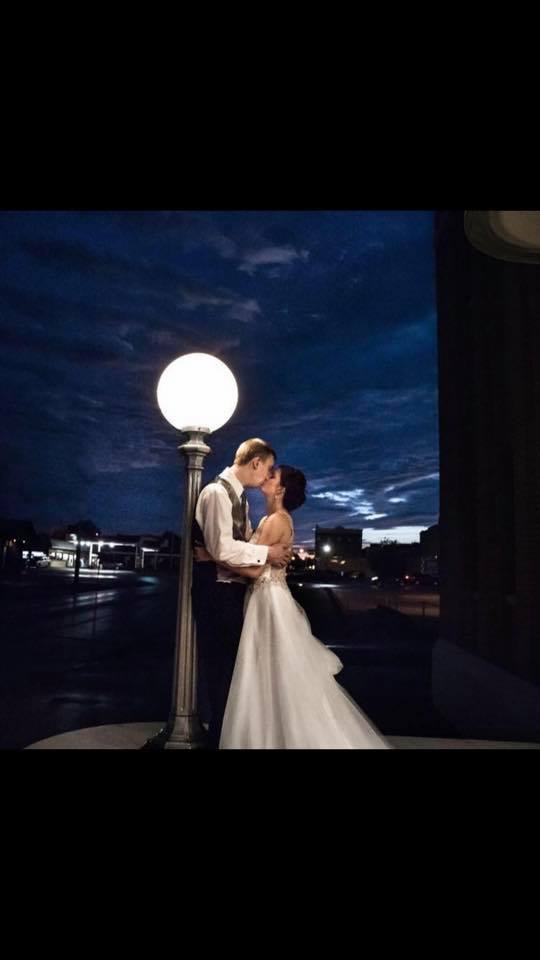 Michelle & Ryan Neal
"I met my husband, Ryan Neal, at Central. We graduated in 1997 and married in November of 1997 and have 3 beautiful children.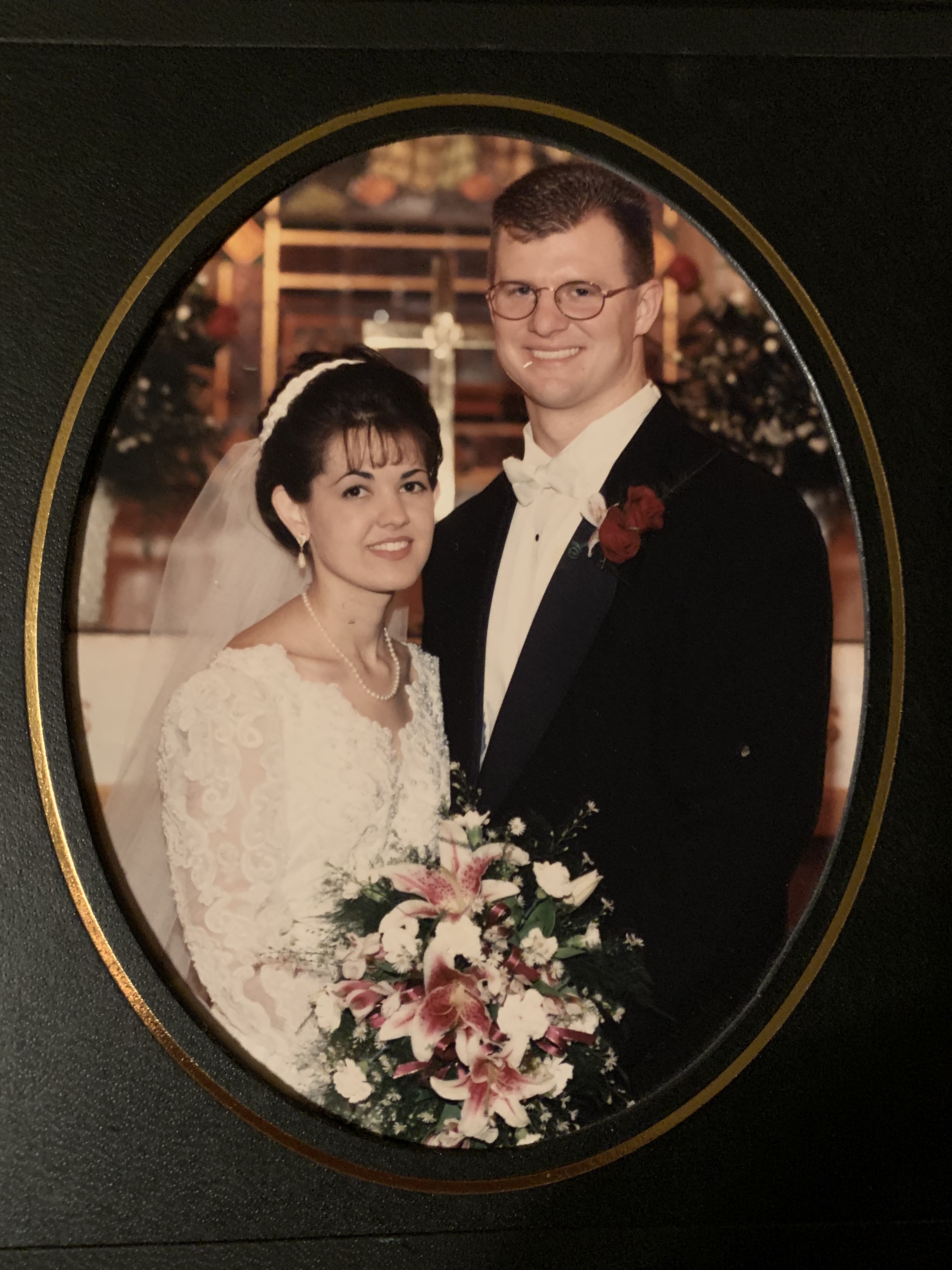 Kelly & Keith Ogle
"I was a senior in high school in April of 1995. I was to come to "CMC" in the fall of 96. I was on campus to finalize some scholarships. My sister, Carrie Barnes, was a junior there at the time. I was staying with her in Holt Hall that Friday, and over the weekend. She still wanted to go out with her boyfriend. She decided she'd set me up for a double date with her boyfriend's friend, even though I already had a boyfriend back home. Well, that young man ended up being unable to go, but his roommate, Keith Ogle, was available. The boyfriend back home was no more after that weekend. I had met my soulmate on the beautiful Central Methodist campus in the tiny town of Fayette, MO! That cute, freshman, CMC soccer player became my date to my high school prom a few weeks later, my boyfriend coming into my first year (and all our years) at CMC, my fiancé, and my husband. I'm so glad we got to spend those precious college years together. We have great memories and mutual friends from Central Methodist! "CMC" will be the heart of the beginning of our love story."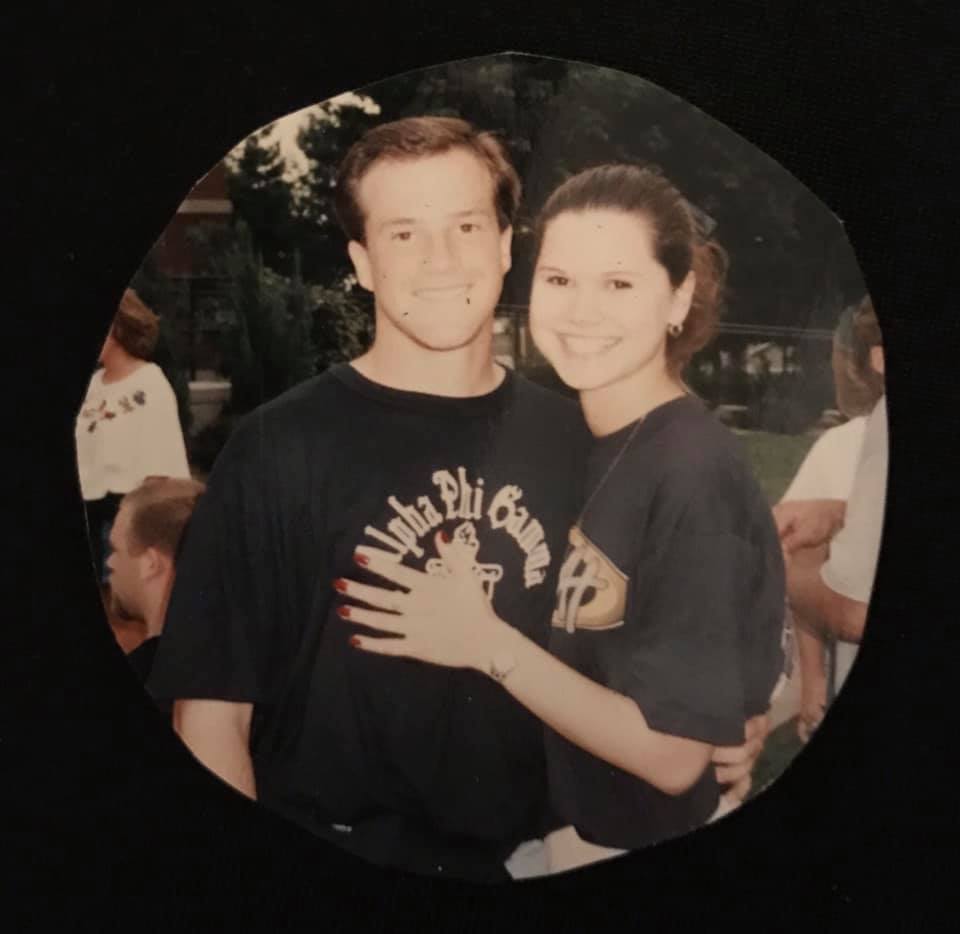 Chanel & Benjamin Oliver
"My husband, Benjamin, and I met August of 2011 during band camp at Central Methodist University. I was a freshman and he was a senior. We struck up an immediate friendship and began dating January of 2012. We made the decision to start 'courting' while looking at the sky sitting on the bench outside of Holt Hall. On the night that he proposed we went on a walk-through campus to all of the spots that meant a great deal to our relationship. That, of course, included the Swinney Conservatory of Music! When we got to the flagpole beside Tberry, where we would always wait for each other after class, he told me that he no longer wanted to be my boyfriend....he liked fiancée better! He got down on one knee and obviously I said, "Yes!" We got married on May 30, 2015 in Linn Memorial surrounded by our family, friends, and even a few of our favorite CMU professors. Three years later, we are the proud parents of a 1-year-old little girl, Melody Rose, and are blessed to call CMU the home of our very own love story."




Brenna & Michael O'Neill
"Michael and I were already dating when we came to Central. We dated all through our Freshman and Sophomore years despite neither of us having a car on campus. For dates we saw movies in Stedman 200 or walked around campus, hanging out on the C-Bench, the Con steps, or Smiley Library. Often, he would play the piano for me and I would turn pages. He proposed in Linn Memorial UMC at the end of the Sigma Alpha Iota/Phi Mu Alpha annual American Music Recital our Sophomore year in which we had both participated. We were married in the same church between semesters our Senior year. Both of these happened before the remodel. Now we have four wonderful children."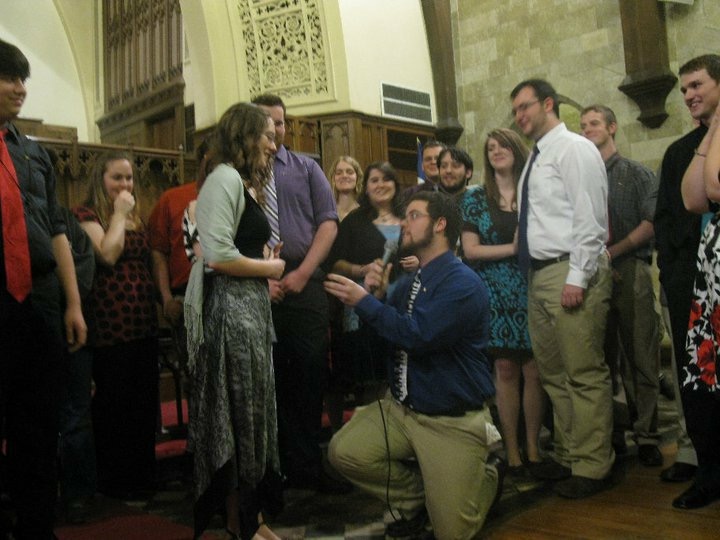 Houston & Brandon Ousley
"Hi! My name is Houston Ousley (Robertson) and I met my husband Brandon Ousley at CMU in 2010. We met at a Zeta-Moker mixer and the next day I added him as a friend on Facebook. He thought I was into him but that was 100% not the case! I had just met a lot of people the night before and added a bunch of people the next day! :) After that he would flirt with me in the cafeteria, the library, Tberry, and the C bench between classes. After a few months of that we finally started dating. In college we got to do so many fun things on and off campus (Zeta and Moker mixers, hayrides, formal, Christmas dinner, to name a few!). He was a senior and I was a freshman. In many ways we shouldn't have worked out. He was graduating and I was still getting used to the freedom that came with being an adult. Through my years at Central, Brandon would come to Fayette and relive the good ole days. By 2013, I when I graduated, we were living together and had a puppy named Barkley. Since then we have traveled, grown into our careers, lost loved ones, stayed up late, binged murder mysteries on Netflix, bought a house, adopted a second dog, got married, suffered a miscarriage, and so many other things. Brandon is my better half. He is an amazing, kind, funny, sweet, smart person. The world is a better place with him in it and without CMU our love and friendship wouldn't have ever happened. It's hard for me to wrap my head around! At Central we made lifelong friends and grew up together. Without CMU I wouldn't be where I am now. I met the love of my life and met incredible people that I am still close to today and for that I will be forever grateful for my time at CMU!"




Heidi Pope & Tama Hugo
"During my CMU Orientation with President Inman when she welcomed all of us incoming students and simultaneously announced that we could not only attain a quality education but potentially meet our future life partner, never did I think that her words regarding finding love at CMU would be relevant to me. I was wrong. I grew up the daughter of a United Methodist Pastor whom was a CMU Alumni and eventually worked as the CMU Church Liaison. This led me to attend CMU Nursing and my rigorous schedule didn't leave much room for social activities. During my Junior Year an international transfer student arrived to play football for CMU. That's when I met Tama Hugo. His character imitated Coach Ford's motto for his team: Faith, Family & Football. Tama growing up in a Catholic Family in American Samoa; CMU provided him with an environment that upheld both his religious and family values. This was the foundation on which our relationship was built. So our friendship began. After class or football practice Tama would brave the halls of Stedman Hall basement, where 90 % of my courses were held, and if you weren't a nursing major you hardly ever stepped foot inside. He would wait for me in the nursing lounge and carry my books home after class. He courted me through the semester. Other nursing students found it adorable this large statured Samoan football player was such a gentleman patiently waiting for me after class. He would also serenade students during chapel and lunch with a few of his Samoan football friends, Burton Iosefa and Jeffery Kaisa. What girl wouldn't fall for a handsome Samoan guy singing while his friends played the ukulele? We began dating Spring semester March 2, 2010. The rest is history. We welcomed our firstborn RaeLynn, a miracle 2.0lb micro preemie born 3 months early, February 13, 2013. Our CMU, Linn Memorial UMC and Fayette community supported our family beyond measure during our daughter's three-month hospitalization at Boone Hospital NICU. We are eternally grateful for our heavenly father's purposeful placement of our union at CMU. Fast forward to today we have three beautiful children, RaeLynn 6, Nalani 3, and Romelu 10 months and purchased our first home in California last year where I work as a registered nurse in the operating room and we are living out our dreams. Cheers to love found in the hallways and on campus at Central Methodist University!"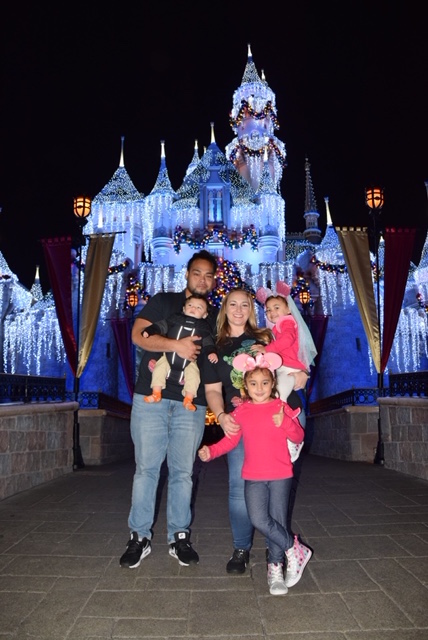 Katie & Trent Pummill
"Trent and I met our freshman year of college and the rest is history! On Valentine's Day we celebrate 6 years together and July 9th will be our 3rd wedding anniversary! We are blessed to be working in the same school. We have two little fur babies and we are loving life. We fell in love at CMU but we also fell in love WITH CMU. That campus will always feel like home."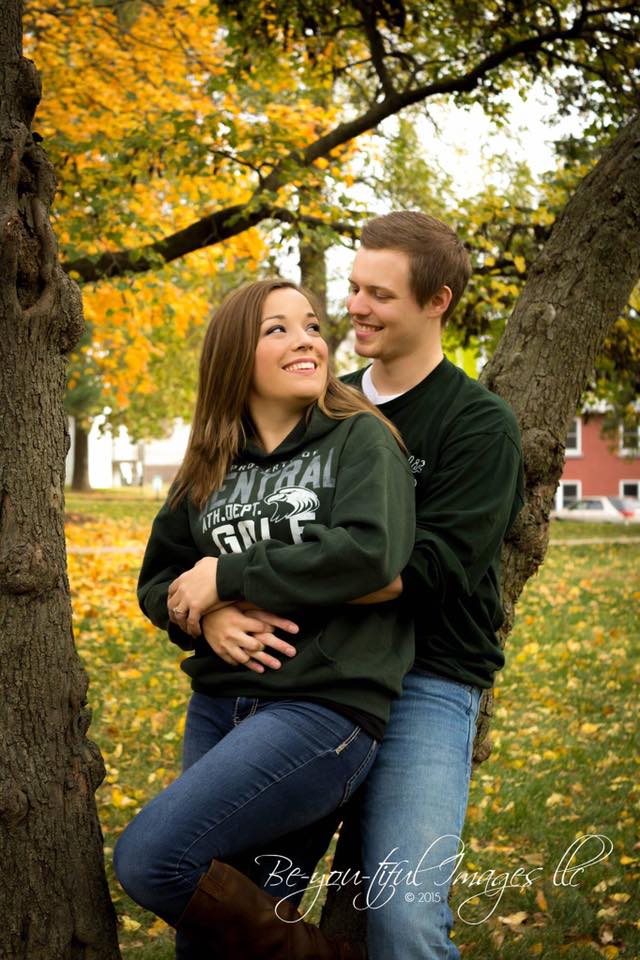 Emily & Perry Rice
"Perry met his wife, Emily Capps-Rice, at Central, married in 2008 and they are currently expecting their third child. Perry graduated in 2006 & Emily in 2007."


Karen & Joe Rice
"Joe and Karen McAllister Rice met at Central and married in 1969, graduated from CMU in 1970. We will be married 50 years this August."


Kaitlyn & Walker Rice
"Without Central Methodist I wouldn't have met Walker. We will be celebrating 4 years of marriage this year to the love of my life!"

Karmin & Scott Ricker
"Scott Ricker was a sophomore and I was a freshman when we met in the fall of 1990. I used to go down to the baseball field in the fall to watch my brother Shannon Gepford play in Fall Ball games with my future sister-in-law Misti (Syferd). As a new freshman, I hadn't met too many people, so I hung around the "upper classmen" who were friends with Misti and Shannon. According to Scott, he used to see me at those games and just was dying to meet me but was a bit intimidated by my older brother who also was his teammate and those upper classmen who had taken me under their wing at first. Scott and I both were in a history class together, but I was pretty oblivious to that fact in the beginning. One evening I got a phone call on the dorm hall phone. Before I knew it I was talking to a guy named Mike Maynard, who I had no idea who he was. He started by asking me all sorts of questions. Luckily for me, some of the awesome ladies in my hall were digging out yearbooks and trying to explain who Mike Maynard was. I remember them all saying...he's a MOKER.... but I didn't know what that meant. Then all of the sudden, Mike says he was calling because his fraternity brother, a guy I had in history class and played baseball with my brother wanted to come over and talk to me. I was completely confused. I had just talked to this 'Mike' person for a long time and now this other guy wants to meet me?? So my friends start digging back in their yearbooks and quizzing each other about this Scott Ricker person. Before I knew it they convinced me to have him over. Scott was a very persistent suitor. He started eating lunch and dinner at the same time that I would go to the dining hall. He would always stop and say hello and would be sure to say hello to my brother and his friends (who were all mostly Bangas). I played basketball for the school as well and we started those early morning practices in October. I used to go to the training room early to get my ankles taped, but then Scott started showing up in the lobby of my dorm in the mornings offering to tape my ankles before practice so I didn't have to wait in the training room. (He was a student trainer a few semesters) He would walk me to history class and asked me to study with him. I finally agreed to a date which consisted of us going to the Bobber with his roommate and fellow baseball player Tyler Pittinger. By November 1990, we became a couple. Because I was also a softball player for the school, we both had many friends who were couples on the baseball and softball teams. So we all spent many times together at the fields. The baseball field holds the most special memory for us because that is where Scott proposed. On April 1, 1992, he told me he forgot something at practice and asked if I would go down to the field with him. He said that they had scrimmaged that day and that he left something in the first base dugout. As we crossed the field he held my hand and when we reached home plate he dropped to one knee. We married August 1,1992, his roommate and teammate Tyler Pittinger, was the best man. We moved into married student housing until I graduated in 1994. There were so many people at Central that played a role in our relationship, it would take forever to name them all, but if they lived on 3rd floor of Holt in 1990, played baseball or softball from 1990-1994, were a Moker, and a Banga they helped make us into the couple we are today! Karmin Gepford Ricker 1994 & Scott Ricker 1993."


Angela Roe & Louis Erick
"Louis and I met in our B-Law class in 2012. He didn't come up to me but used our mutual friend Libby Wilson to get us together, and we are so thankful for her! I had the great privilege of being a part of the Spirit Squad and cheering on Erick in both basketball and football. We will be married 5 years this coming June and are so happy for CMU bringing us together!"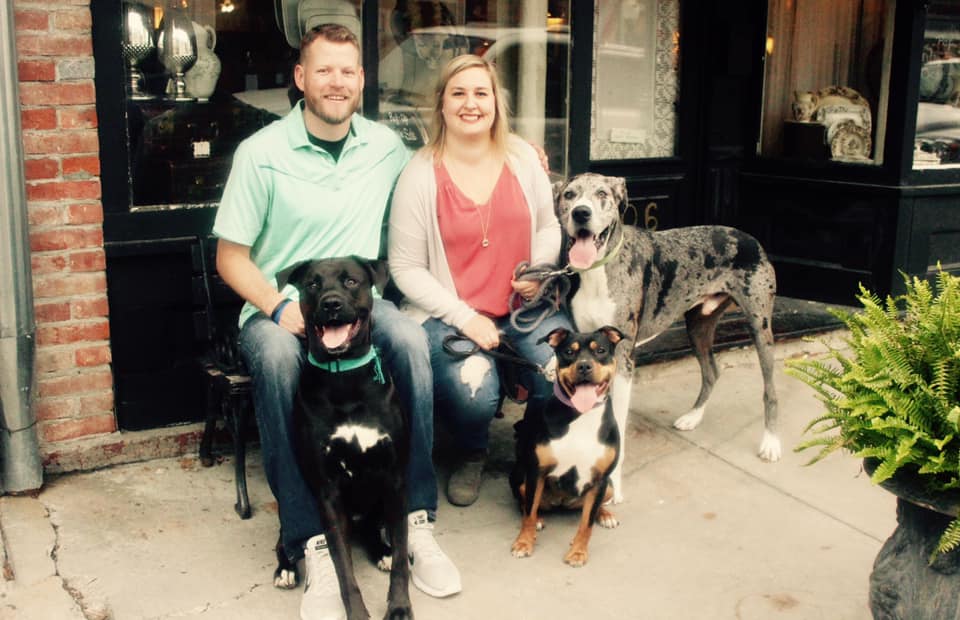 Melissa & Eric Savaiinaea
"My husband Eric and I met on the basketball court. I was shooting around during the day for a pregame home game. He walked up and introduced himself. The rest is CMC history!"


Judy & John Schofield
"My parents are John Schofield and Judith Yeast Schofield of Independence, Mo. Mom graduated from Central College in 1961, and Dad graduated in 1962. Here's a little bit of their story...Johnny and Judy first met when they were in the same third-grade class in Macon, Mo., in the late 1940s. John was the new kid, a country boy who often wore flannel shirts to school. Judy noticed that about him. But the next year, he and his family had moved down U.S. 36 to a farm outside Brookfield, Mo., where he'd spend the remainder of his childhood and high school years. His dad was a school administrator and farmer, and his mom was a teacher. Judy grew up in Macon, where her dad was an executive with Allis-Chalmers and her mom stayed home with the kids. When she matriculated at Central in fall 1957, she became the first person in her family to go to college. And right away, she met a cute freshman named Johnny, whom she recognized as the boy who always wore flannel shirts when he was in third grade. Pretty quickly, a romance sparked. It was off-again, on-again for a bit until their sophomore year at Central, when things grew serious, and John proposed marriage on Valentine's Day. On Aug. 30, 1959, Judy married John at the Methodist Church in Macon, Mo. They'll celebrate their 60th wedding anniversary this year. The couple pursued teaching careers, eventually moving to Charleston, Mo., in 1965. They raised their children in Charleston, where John was band director and later a math teacher. Judy taught social studies in the nearby town of East Prairie, Mo. The couple has three daughters: Rev. Sarah Schofield Wimberley, married to Andrew and mother of Abby and Sam; Kate Beem, married to Matt and mother of Joe, Maggie and Tom; and Molly Hennessy, married to Mike and mother of John, Maureen and Andrew. Molly followed her parents' example, graduating from CMU in 1995. In 1993, John and Judy moved to Independence to be closer to family. John retired from the public schools but continued teaching, first at Genesis School in Kansas City and later at Visitation Parish School. He retired from Visitation in 2006. Judy worked at Sunshine Center School in Independence before focusing her attention on volunteer work and her grandchildren. The grandchildren enjoyed John and Judy's open-door policy and standing promise of a great bowl of ice cream and some free math tutoring. They also often heard stories of John and Judy's college days at Central. When it came time for the oldest grandkids to choose colleges, the three oldest chose Central! In 2018, John and Judy watched in Puckett Field House as their two oldest grandchildren, Abby Wimberley and Joe Beem, graduated from CMU. And in May 2019, they'll be there again, cheering on grandson John Hennessy. And granddaughter Maureen Hennessy, a high school senior this year, has received a fine arts scholarship to CMU."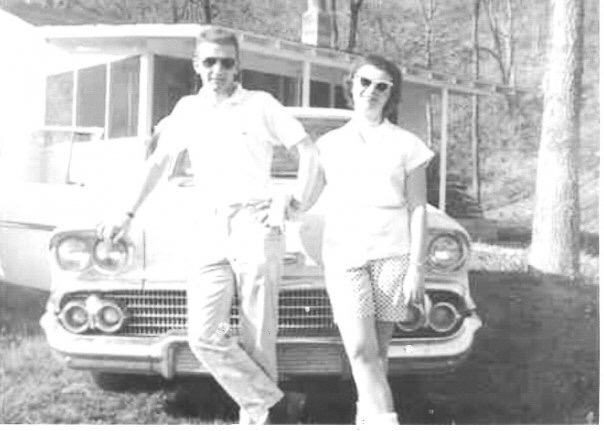 Elizabeth & Carlos Semidey
"Elizabeth and I started dating my junior year (her sophomore year) after about 3 years of being best friends and running track/XC together. I proposed to her at a track meet on Valentine's Day my senior year. (I have the video on FB somewhere) we have now been married 8 years and just had our 1st baby in September!"


Toni & Michael Shikany
"My family is a Central Methodist love story. Honestly, it all started with my parents-Amy and Scott Haberkorn. My parents met at CMU, then known as CMC. Matter of fact, my twin sister and I spent our first year of life growing up around CMC and the Delta Sigs (now TKE's). We grew up in a home full of love, laughter, and stories about CMC. So when it was time to choose a college to go to, I knew exactly where I wanted to go. It was lucky of me that I also got a soccer scholarship. It was there that I met my person. My husband, Michael Shikany, and I met during pre-season soccer training. It was an added bonus that I had Spanish class right next to his stats class. We grew into adulthood together. We experienced pledging together. He pledged Sig Alph (Phi Delt) and I pledged Delta. At our wedding, he and his brothers sang me the Sig Alph sweetheart song, and my delta sisters and I sang my husband the Delta sweetheart song. We have been inseparable ever since college. He is my person and the one I was meant for. Here are three photos, my husband and I at our wedding. My husband and I in Holt Hall's kitchen. And one including my parents and my husband and I. My parents own CMU/CMC love story is going strong."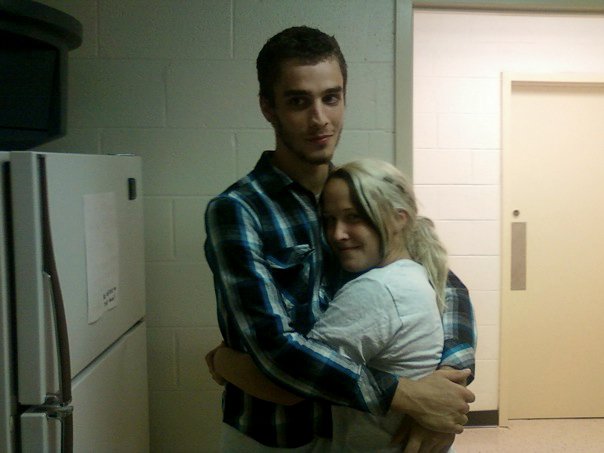 Rebecca & Gary Shoemaker
In September of my freshman year, I introduced myself to Gary (nicknamed Kirk) Shoemaker in the Smiley Library (I had previously noticed him in Religion class.) We discovered that as United Methodist preacher's kids, we had a lot in common. We fell in love, & within 11 days knew we'd get married. 4 years later in 1986, Pastor Dick Curry married us in Linn Memorial's beautiful sanctuary where we had regularly worshipped together. We had a simple cake & punch reception in the Eyrie Student Union. Although we never had children, we were "parents" to hundreds of children in our roles as educators. Plus we "birthed" a new United Methodist Church, Morning Star Church. We cherish our memories of Central...our Phi Mu Alpha & Phi Beta activities...our Janaway trips...& all the band/choir rehearsals, concerts, and our wonderful friends & professors."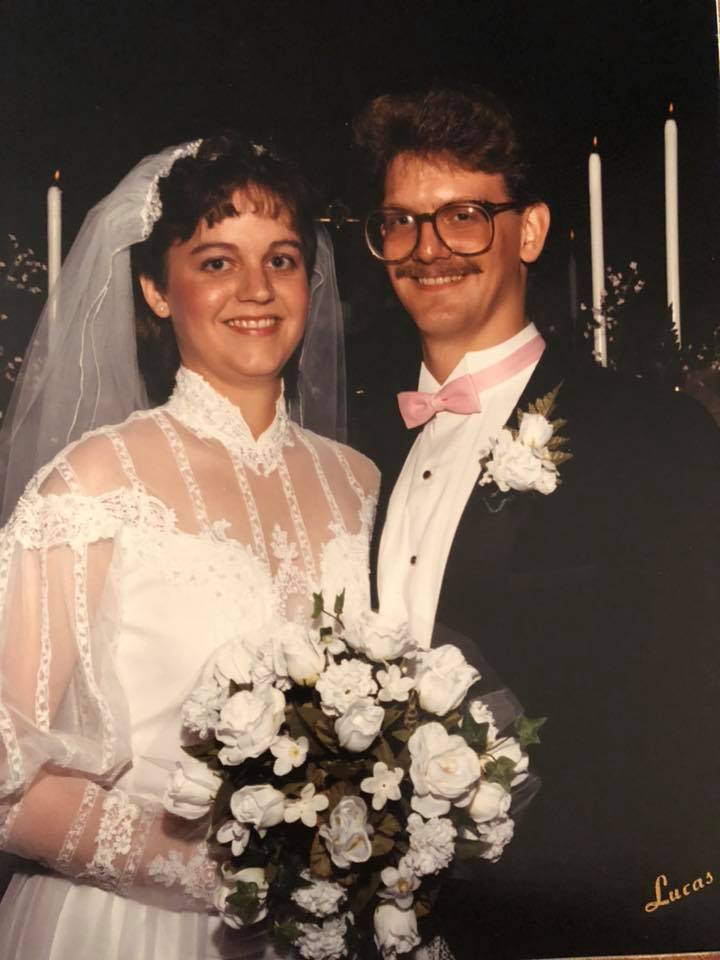 Adriana & Daniel Simmons
"Daniel ('12) and I ('14) met my freshman year and his junior year from cross country! We instantly started dating a few weeks after we started school. We married in July 2017 in Maui. We now happily live in the San Francisco Bay Area."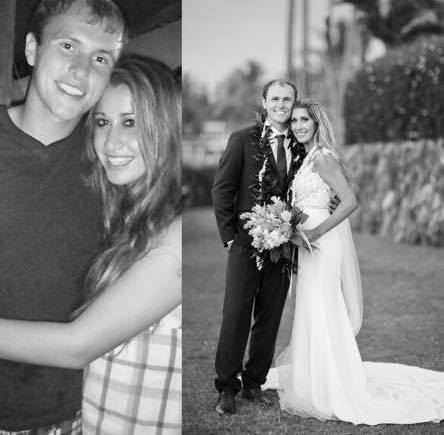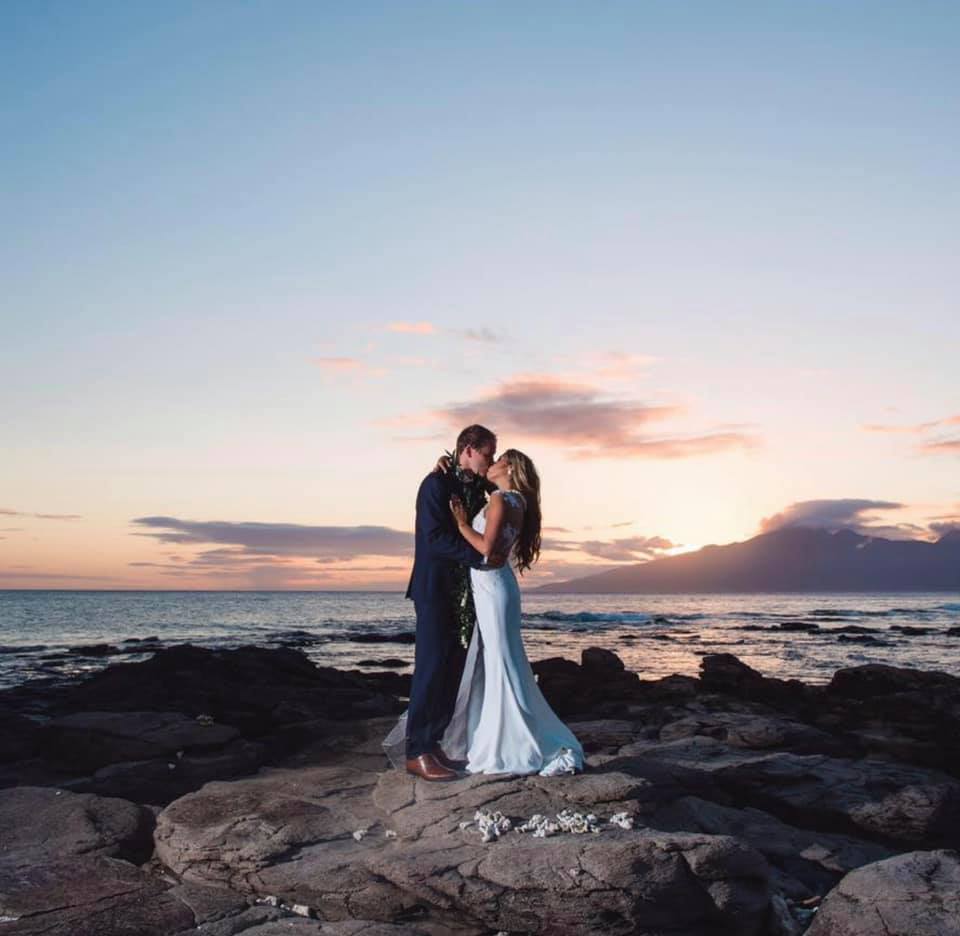 Rheonna & Wesley Snedigar
"My husband Wesley and I met the day before classes started in 1992. I was a freshman and he was a senior. When I mentioned to my mom the cute basketball player I was talking to, she asked his last name but I didn't know it. Since I had a work study job in admissions, I had access to all of the recent yearbooks. I found his picture on the basketball team photo but when I saw his last name I thought it was probably a misprint! Two years later his last name became mine. We were married at Linn Memorial in 1994. Once married we moved into a small apartment above Alsop & Graham's Drugstore while I finished my studies. We now have 2 handsome sons ages 17 and 14. We will be celebrating 25 years of marriage this year and it all started at CMU!"




Nicole & Matthew Stacey
"Matthew ('02 Moker) and I ('99 Delta) started dating in 2000. I was a graduate assistant for softball. We were married in 2004. Matt's parents were also CMC love story!




Sarah & Johnny Stilwell
"Johnny & I met in 2009 while in my senior year & he in his final year obtaining his Masters. He was a Graduate Assistant for the football program & I played volleyball for the Lady Eagles. We married in May of 2014 and have 2 beautiful girls, Scarlet (7) & Freya (1). We currently reside in Quincy, CA but are getting ready to move back to the Midwest and join the HAAC once again as Johnny will be the new D Line coach at MoVal. It will be odd wearing purple & orange but I'm not taking off my CMU alumni sticker that's on my car!"


Jennifer & Mick Spaulding
"Mick and I met in 1991 in the Athletic Training room (I was a student trainer and he was a student coach for Jeff Sherman). We were married in Linn Memorial and have been married for 25 years. We have held numerous positions at Central over the years and our oldest daughter Mickayla Spaulding graduated from CMU in 2017. We love CMU with all our hearts!"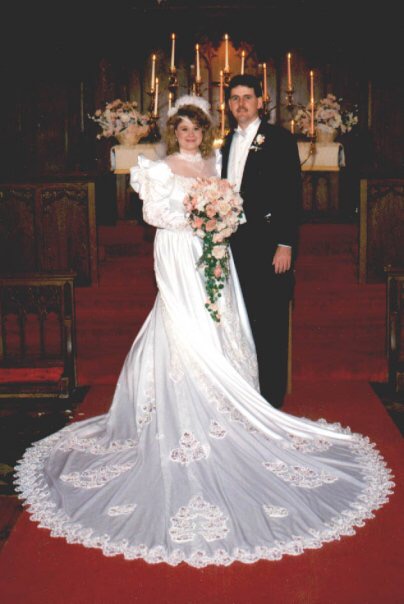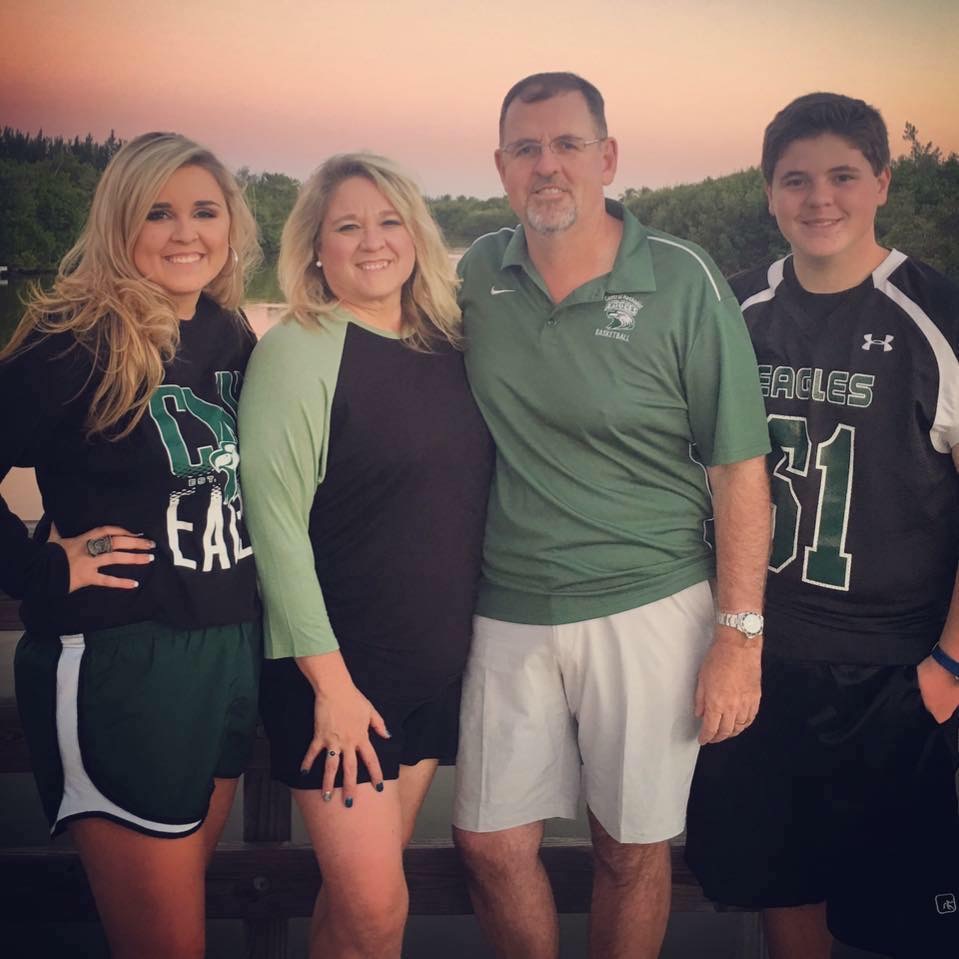 Jerry & Kristy Strickland
"My husband and I met on a Janaway trip to New York City, the business trip in 1985. We graduated together in 87 and married in the fall of 87. We have been married for 31 years. We had never seen each other on campus or at least not that we knew of but being on a 2-week trip, in a bus with 40 students, meant we met finally. The pics I am sending are from a rehearsal for Mardi Gras, I was a Zeta, and he had just come up after baseball practice. Another one from Graduation and 2 recent photos to show we still share a love of learning and travel that we first began at Central Methodist."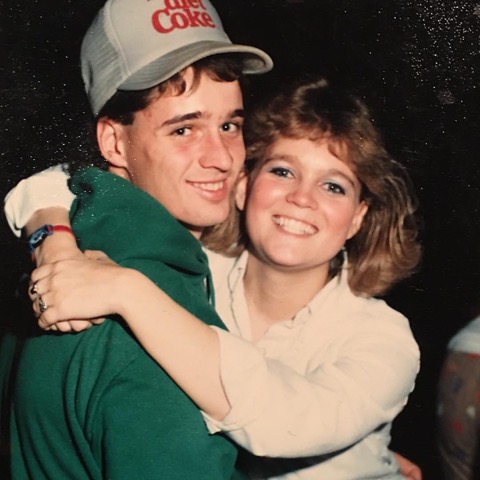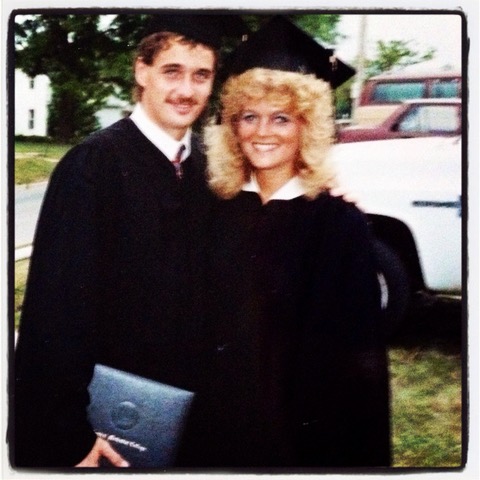 Jennifer Stutzer & Salum Stutzer
"We met as students in 2004. We both were active on campus. I was a member of Sigma Pi Alpha and the volleyball team while Salum was captain of the football team. Both of us earned our undergraduate and graduate degrees from CMU. Salum worked for Central in the Student Life Department in many roles. We were both inducted into the Hairston Hall of Fame, Salum for his own achievements and me as a member of the 2004 Volleyball team. We have 3 boys, Noah (11), Max (7) and Louie (4) and currently both live and work in the Independence School District in Kansas City. We have great memories and love for CMU!"


Jacquelyn & Charles Sudduth
"Charles and I met at CMU thanks to a blind date set up by our best friends! We're married now and have a beautiful baby girl, Harper."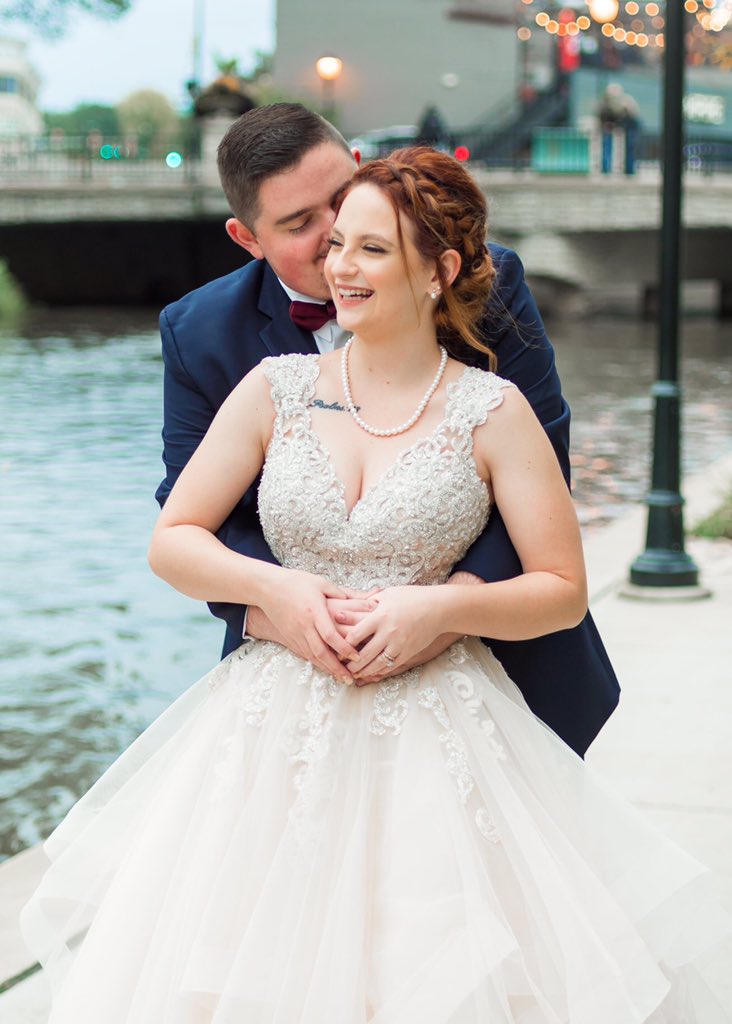 Desiray & Alex Thompson
"My husband and I met well before college (2009). He came with me to my college visits to CMU and was mistaken as my brother! After he graduated from Linn Tech, he moved to Fayette with me until I graduated (2016). Then we decided to buy a house here and a month later we got married in Linn Memorial (8-12-17). He is my rock!!"


Mindy & Bob Waddell
"33 years married to Bob Waddell this coming May, 35 years as a couple. Started dating the fall of our sophomore year. Married in Linn Memorial by Rev. Ron Page the day before we graduated! 1986. The 80's...the best of times!"


Cherilyn & Aaron Widhalm
"Aaron and I met in January of 1995. We both played basketball for CMC and after a game a few players decided to head to the Bobber for a late-night dinner. Aaron and I rode in the same car together that night and were pretty much inseparable after that. I knew our relationship was going to last when he walked across campus from McMurray to Holt to give me my Valentine's gift....a gigantic stuffed bear!! Married in June 1998 with 2 beautiful kids about to celebrate 21 years."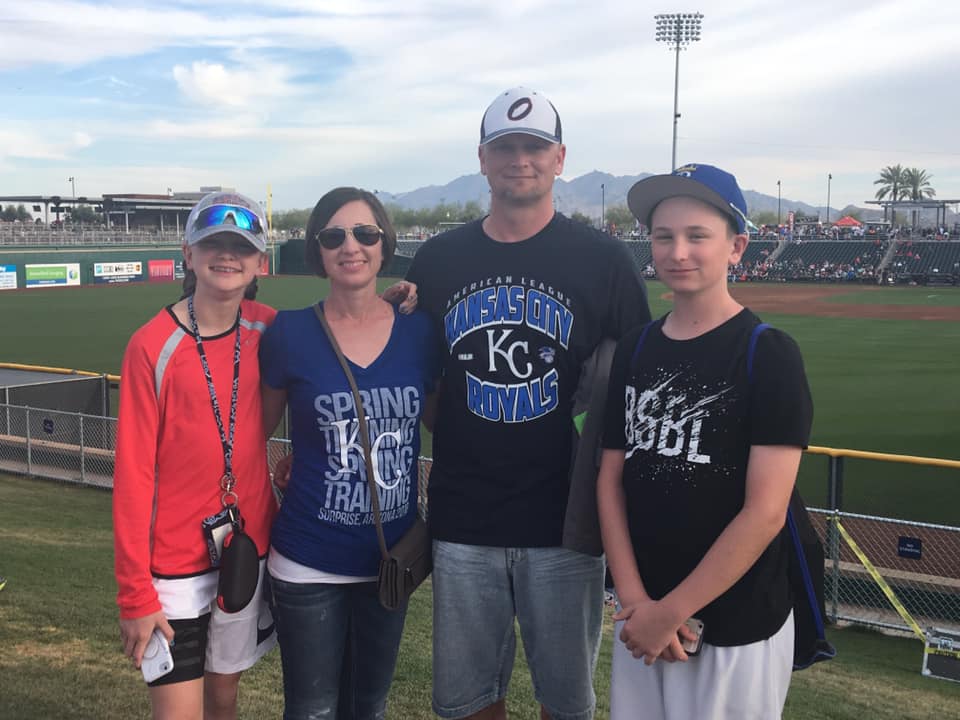 Sarah & Hershel Williams
"My husband and I met on the first day of freshman orientation in 2011. We got engaged the day before graduation (2015) and were married at Linn in 2016. We both working on our Masters at CMU as well."


Erin & Kyle Youngs
"Erin and I met at CMU and got married at CMU!!"


Megan & Kayla Yount
"Vern and Vegas were how we were known. I started dating Kayla Yount my freshman year, 2010. We were engaged my junior year and married in Colorado 2015. We have celebrated three years of marriage this last September and have one son named Beckett."