Marie Dennis Focuses On Importance Of Nonviolence
Fourth Annual Sunoo World Peace Lecture Series Held October 30
November 5, 2018
By MAGGIE GEBHARDT / mgebhardt@centralmethodist.edu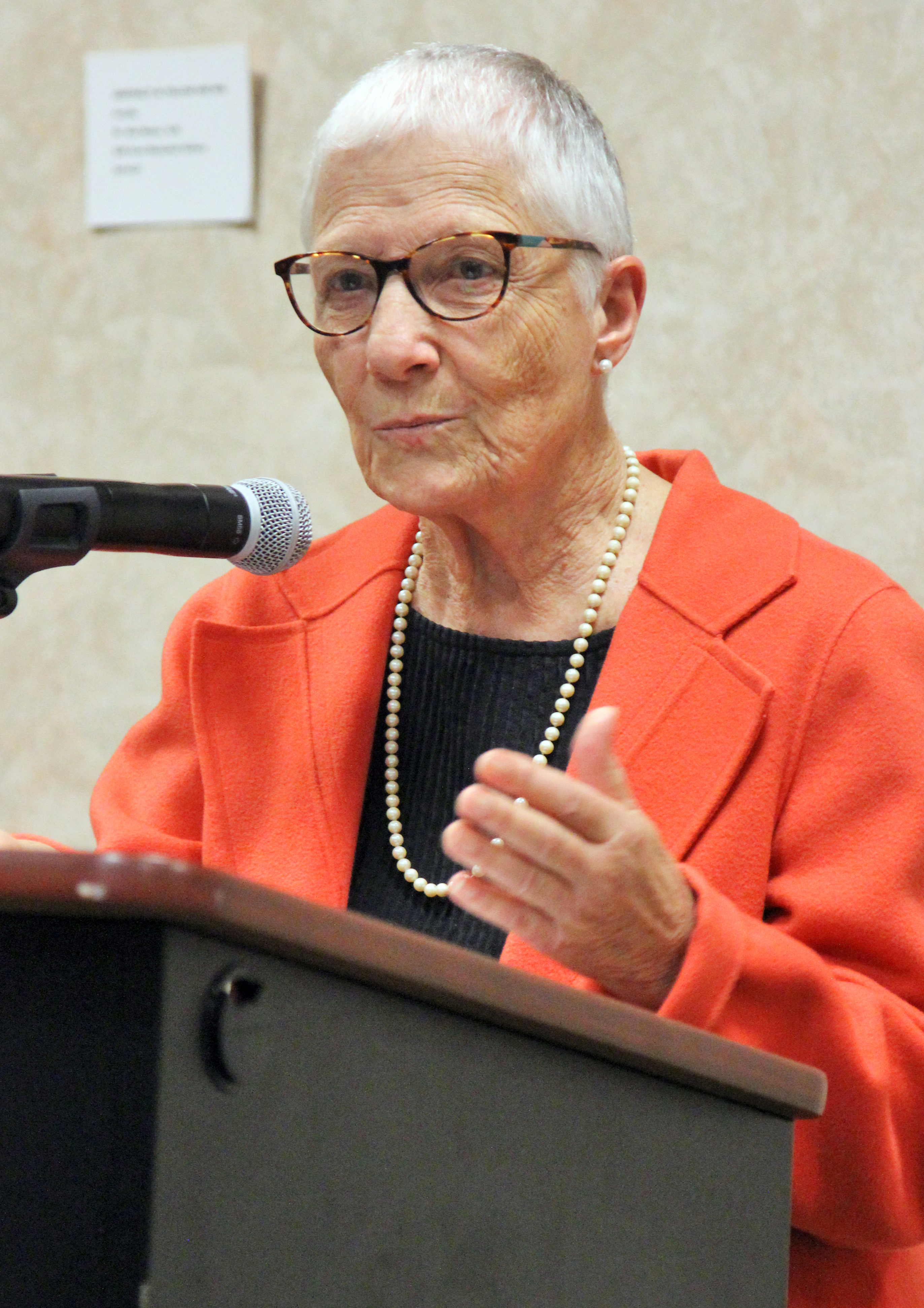 "The human community simply cannot sustain the levels of war and violence that have such unconscionable consequences. We have to find a better way to live together on this planet."

Marie Dennis, co-president of Pax Christi International, spoke these impactful words during Central Methodist University's annual Sunoo World Peace Lecture Series, held Tuesday, Oct. 30 at CMU's main campus in Fayette.

Dennis presented "Active Nonviolence: A Paradigm Shift To A More Peaceful World" that evening, as she spoke to Central faculty, staff, students, and members of the community about the importance of finding alternatives to violence.

Working for Pax Christi International – a global Catholic peace movement – since 2007, Dennis is a leader of the 120-member organization working for peace on six continents. Pax Christi was founded at the end of World War II to promote reconciliation. According to Dennis, members share a deep commitment to active nonviolence.

"We believe more creative energy, as well as intellectual and financial investment in the development of nonviolent approaches to peace keeping and peace building, are essential to addressing the tremendous challenges of the 21st century," she said.

Dennis spoke about how publicly, nonviolence is often misrepresented or misunderstood. In many circumstances, it is too narrowly defined, or dismissed as passive or utopian, but strong evidence suggests a different conclusion – that active nonviolence is both powerful and affective.

"It's much, much more than participating in a demonstration, or chaining yourself to a fence, or crossing a line," Dennis said. "It is much bigger than civil resistance."

Dennis said addressing trauma in local communities is necessary to achieve the kind of stable and peaceful society we long for. She said the underlying causes of conflict need to be addressed – why is there violence?

In order to create change, Dennis said it is crucial to revitalize livelihoods in conflict-affected economies, rebuild confidence in the political processes, reform police, promote the rule of law, and show respect for human rights. These actions are a package of responses or efforts that can prevent violence and build a peaceful society.

Dennis said the consequences of war are great, and include physical, economical, psychological, ecological, and environmental. She spoke about how society continues to witness wars going on and on, or failing to accomplish their stated purpose. Because of this, it is necessary to collectively fill the public policy toolbox with affective conflict prevention, peace building, and nonviolent tools.

"The obstacles are huge. The topic of nonviolence sometimes sounds abstract. But, in reality, the future – if the world is going to have a future – has to learn to be nonviolent," Dennis said.

Dennis worked for the Maryknoll Missioners from 1989 to 2012, which included 15 years as director of the Maryknoll Office for Global Concerns.

She was one of the primary organizers of the April 2016 Conference of Nonviolence and Just Peace that was cosponsored by the Vatican's Pontifical Council for Justice and Peace, as well as Pax Christi. The conference called on the Catholic Church to recommit to the centrality of gospel nonviolence, proposed the World Day of Peace 2017 Theme on nonviolence, and started the Catholic Nonviolence Initiative.

In 2016, Dennis received the Public Peace Prize and was named Person of the Year by the National Catholic Reporter. She has served on the national boards of the Alliance for Peacebuilding, JustFaith Ministries, Sojourners magazine, the Jublilee USA Network, and several other organizations.

Dennis is the author or co-author of seven books and editor of the Orbis Book, Choosing Peace: The Catholic Church Returns to Gospel Nonviolence.

She received her master's degree in moral theology from Washington Theological Union and has honorary doctorates from Trinity Washington University and Alvernia University. She is a lay woman and a mother of six.