High School Students Visit Campus For Science Competition
Nine Schools, 53 Students Participate; Scholarships Awarded
November 7, 2018
By MAGGIE GEBHARDT / mgebhardt@centralmethodist.edu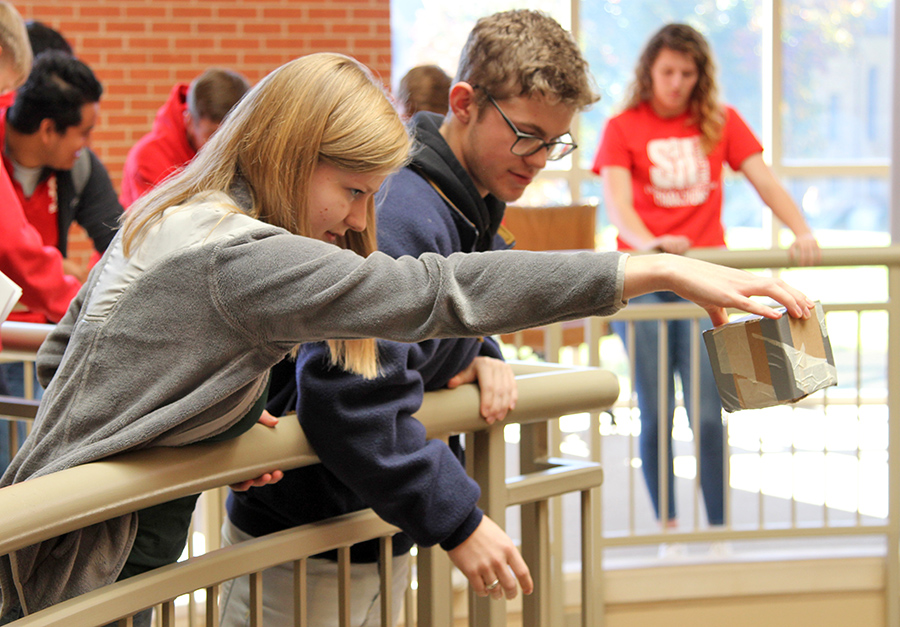 Over 50 high school students from Missouri schools enjoyed the beautiful fall weather and all things science and math at Central Methodist University's campus on Tuesday, Nov. 6.

They made the trip to Fayette for CMU's annual Momberg High School Math and Science Competition, which offers opportunities for academic challenges, fun, and scholarship prizes for top-performing teams.

Participating schools were Bunceton, Fayette, Glasgow, Jamestown, Marceline, Sacred Heart, Saint Paul Lutheran (Concordia), Slater, and Sturgeon.

Teams participated in both knowledge-based and performance competitions. The knowledge-based portion of the day involved rounds of questions in chemistry, biology, physics, and math (through pre-calculus).

The performance portion was an "egg-lander" competition. Each team was instructed to build a capsule that would hold an egg – the "eggstronaut." They could use any material, but had to keep their capsule within certain mass and volume limits. Each team had one chance to drop their egg from approximately 30 feet to a target below. The highest points were awarded to those whose "eggstronaut" survived without breaking, and who came closest to the bullseye of the target.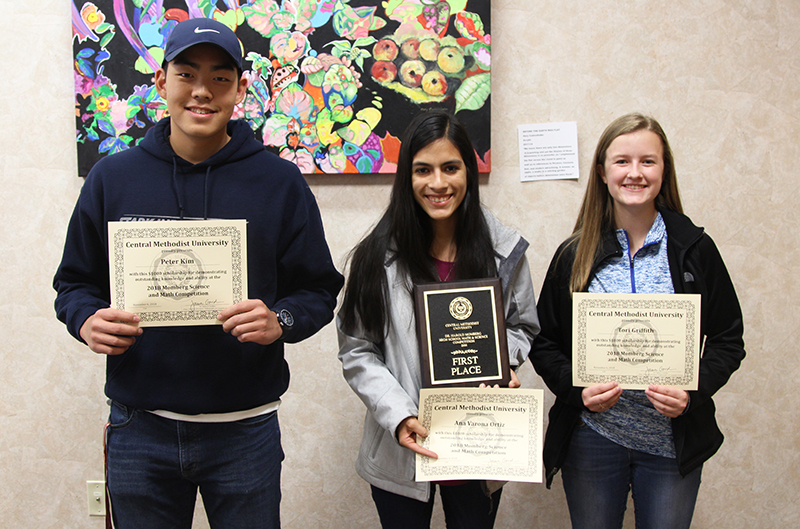 Scores from both competitions were combined for a total, and scholarships and plaques were awarded to top-performing teams.

"I am always encouraged to see the imagination and ingenuity of the students who attend this event," said James "Tiger" Gordon, professor of chemistry and chair of the
Division of Science at CMU. "Their teachers have done an
outstanding job of instructing and inspiring them to be very good young scientists."

First place and $1,000 individual scholarships were awarded to a team from St. Paul Lutheran. Students on the team included junior Peter Kim, junior Anna Ortiz, and senior Tori G
riffith.

Second place and $750 individual scholarships went to a team from Marceline. Students on the team included juniors Hayden Krumpelman, Addy Schmitt, and Colby Sims.

Third place and $500 individual scholarships were awarded to a team from Fayette. Students on the team included junior Jack Kindle, senior Cameron Stornello, and junior Grant Himmelmann.

"While we give scholarships to our top three teams, I believe all of these students are winners because they are growing and learning in STEM (science, technology, engineering, and mathematics) areas, which are critical to our future," Gordon said. "I couldn't be more proud of the students and teachers that attend our competition each year."