Little Theatre Presents Brighton Beach Memoirs
Well-known Neil Simon Semi-autobiographical Play
April 9, 2018
By CATHY THOGMORTON / cthogmor@centralmethodist.edu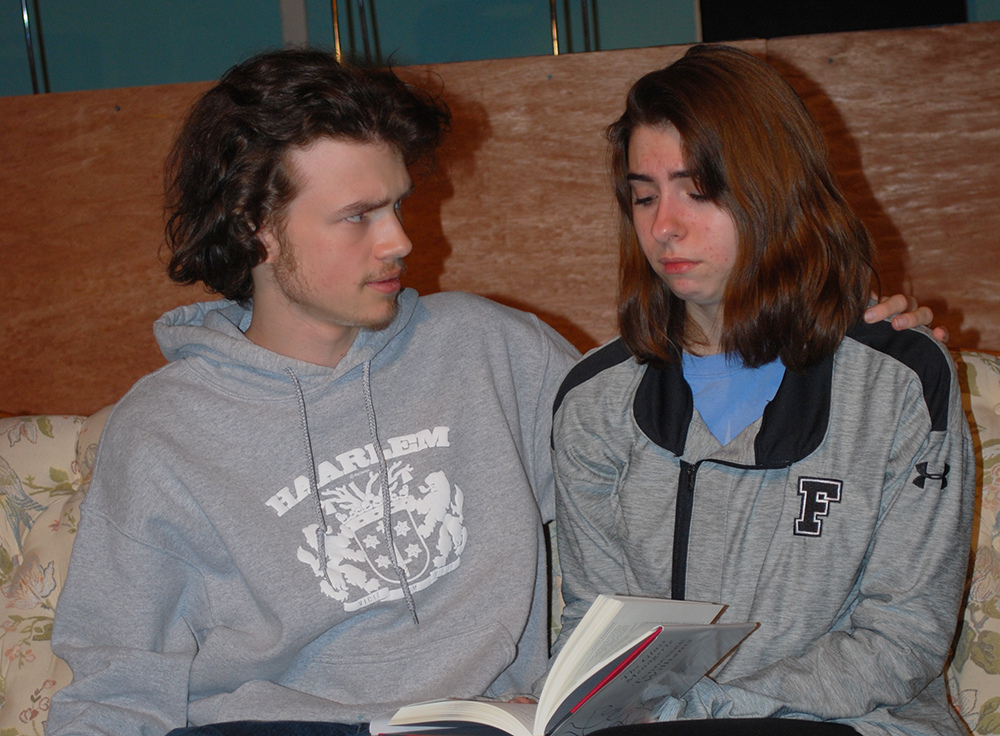 The members of the Little Theatre at Central Methodist University will present Neil Simon's comedy with a heart, Brighton Beach Memoirs, on Thursday, April 26 through Sunday, April 29 at the Little Theatre on the campus of CMU.
The schedule calls for a 4:30 p.m. Thursday show, 7:30 p.m. on Friday and Saturday, and 1:30 p.m. on Sunday. The cost is $8 for adults, $5 for seniors and CMU faculty and staff, and $2 for children and CMU students with identification.
The play is the first of a trilogy reflecting Simon's youth in a Jewish family growing up in Brooklyn. The other two parts of the trilogy include Biloxi Blues and Broadway Bound.
Set in the Brighton Beach section of Brooklyn in 1937 during the Great Depression, the coming-of-age comedy focuses on Eugene Jerome, a Polish-Jewish teenager who suffers his way through puberty, sexual awakening, and a search for his identity as he tries to deal with his family, including his older brother Stanley, his parents Jack and Kate, his aunt Blanche and her two daughters, Nora and Laurie.
The Little Theatre cast includes Ben Kixmiller (sophomore theatre arts major from Prairie Home) who portrays Eugene Morris Jerome (almost 15); Jordan Cassmeyer (senior mathematics major from Jefferson City) as Blanche Morton (38, Eugene's widowed aunt); Myriah Araiza (junior theatre arts major from Columbia) as Kate Jerome (about 40, Eugene's strong Jewish mother); Hailey Sage (senior from Fayette High School) as Laurie Morton (13, Eugene's cousin who has heart problems); Whitney Bias (junior communications studies major from Versailles) as Nora Morton (16 ½, Eugene's beautiful older cousin); Addison McGuire (senior biology major from Higbee) as Stanley Jerome (18, Eugene's older brother); and Nickie Foland '17 (guest performer from Fayette) as Jacob "Jack" Jerome (40, Eugene's father).
Directing the play is Dr. Mark Kelty, CMU professor of theatre; his assistant director and stage manager is Jenny Barnett (junior theatre arts major from Saint Louis); his second assistant director is Katelyn Watts (sophomore elementary education major from Louisiana). In charge of scenic and lighting design is Gregory Owen, assistant professor of theatre. Supporting the crew are the costume designer Terri Rohlfing, adjunct professor of theatre, and as scene shop foreman, Chuck Thompson, adjunct professor of theatre.
Other crew members include set construction and painting: Cori Bryan (sophomore music education major from Springfield), Jenny Barnett, Abby Wimberley (senior theatre arts and communication studies major from Independence), and Donald William (Aaron) Johnson (sophomore history major from Laddonia); publicity and front of house: Myriah Araiza and Whitney Bias; box office: Abby Wimberley and Aaron Johnson; lights and sound: Ben Kixmiller and Bailey Stevens (sophomore chemistry major from Glasgow); props: Addison McGuire and Cori Bryan; costumes: Terri Banderet (senior biology major from Arnold), Whitney Bias, Ashley Brewer (sophomore criminal justice and psychology major from Salisbury), and Jaiden Preston (freshman pre-declared major from Kennett); and board operators: Taylor Rouse (senior music major from Columbia) and Bailey Stevens.
Additional well-known Neil Simon productions include Barefoot in the Park, The Odd Couple, Plaza Suite, and The Goodbye Girl.