Fernando Jimenez Receives Full-Tuition Award
First-Ever CMU Student In 'Grow Our Own Teachers' Program
May 14, 2018
By SCOTT QUEEN / squeen@centralmethodist.edu
Fernando Jimenez remembers the patience and support of a very special kindergarten teacher. And it will be his compass in just over four years when he walks into his first classroom as a teacher in Columbia.
Jimenez was introduced Thursday at Battle High School as the first Columbia Public Schools graduate to attend Central Methodist University in the Grow Our Own Teachers program. He's excited to settle into Fayette this fall to begin studying education.
"This is great for Fernando, great for Central, and great for Columbia Public Schools," said CMU President Roger Drake. "The Grow Our Own Teachers Program is an investment in mid-Missouri and helps Columbia keep its top talent."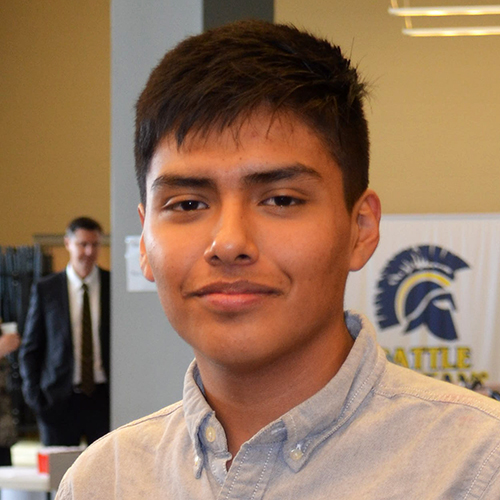 Jimenez, a first-generation college student who was born in Chiapas, Mexico, receives a full-tuition scholarship to Central Methodist thanks to CMU's Grow Our Own Teachers partnership with Columbia Public Schools. He graduated from Battle High School.
"I'm super excited to be in this program and to become an Eagle," said Jimenez. "I didn't think going to a four-year college was even an option, and now I have this amazing chance to become a teacher."
Grow Our Own Teachers offers a strategy for schools to achieve equity goals while addressing teacher shortages in critical areas. The program is also a big benefit to students because of scholarships and/or loan forgiveness and earlier field experiences and exposure.
Grow Our Own Teachers provided mentors for Jimenez and others who were introduced Thursday by Columbia Public Schools. The program includes the EdX Intern Program, where students in the program work with classroom teachers during summer school, receiving $10 per hour.
Besides participating in the internship program, Jimenez has done volunteer work for the Key Club, Student Council, MAC Scholars and the Culinary Arts at the Columbia Career Center.