Concert Band Setting Off On Tour
Making Stops In Missouri And Arkansas
March 15, 2019
By MAGGIE GEBHARDT / mgebhardt@centralmethodist.edu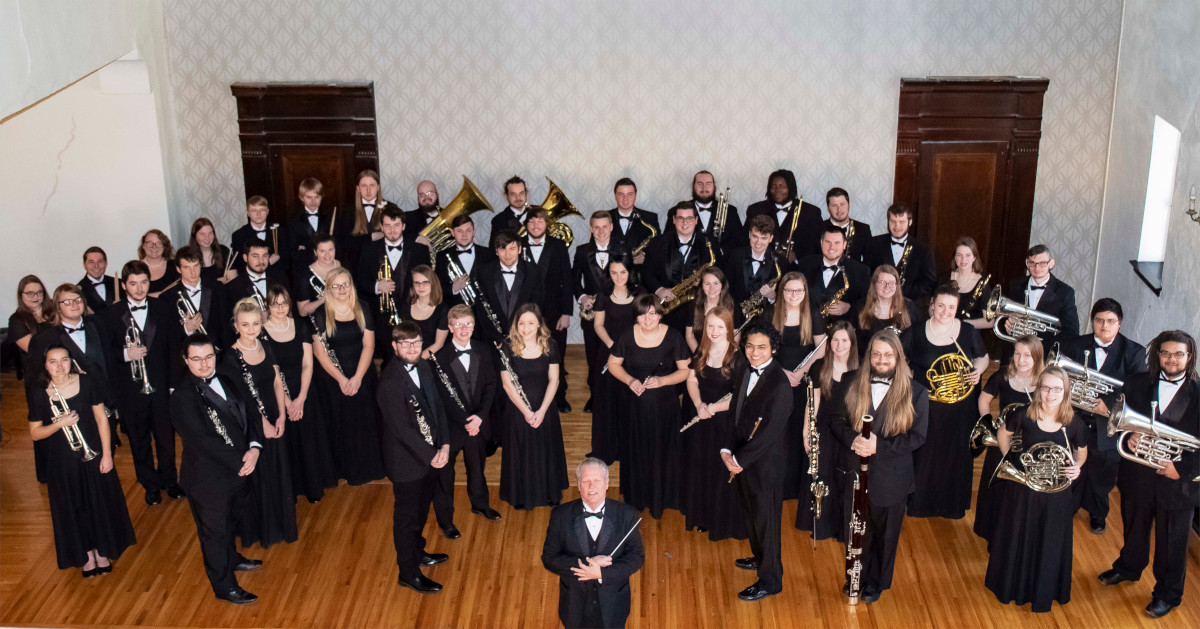 Central Methodist University's Concert Band will be hitting the road for its 93rd annual tour, during which it will visit numerous schools and churches to put on won't-want-to-miss performances.
Conducting the group of 54 band members is Roy "Skip" Vandelicht, CMU associate professor of music and director of bands. He joined Central's Swinney Conservatory of Music fulltime in 2008 after a career teaching music in the Fayette Schools and an extended period also directing the CMU Marching Band.
The group will depart from Fayette on Thursday, March 21 and will make its way around Missouri and even down to Arkansas before concluding the tour on Tuesday, March 26.
Outside of their visits to schools including Hannibal High School, Elsberry High School, Waynesville High School, Jackson High School, Sullivan High School, Parkway Central High School, and Pacific High School, there will be many open-to-the-public, free performances, including:
Montgomery City United Methodist-Presbyterian Church in Montgomery City, Mo. on Thursday, March 21 at 7 p.m.; Salem United Methodist Church in Salem, Mo. on Friday, March 22 at 7 p.m.; Woodland Auditorium at the Ponce De Leon Center in Hot Springs Village, Ark. on Saturday, March 23 at 7 p.m.;
Christ of Hills United Methodist Church in Hot Springs Village, Ark. on Sunday, March 24 at 8:40 and 10:10 a.m., and later that evening First United Methodist Church in Poplar Bluff, Mo. on Sunday, March 24 at 7 p.m.; and Kirkwood United Methodist Church in Kirkwood, Mo. on Monday, March 25 at 7 p.m.
The group will perform at a few high schools, then travel back to Fayette on Tuesday, March 26, and will host a free home concert at Linn Memorial United Methodist Church on the Fayette campus at 4 p.m. on Sunday, April 7.
The repertoire will include "Barnum and Bailey's Favorite" by Karl King; "Chorale and Shaker Dance" by John Zdechlik; "Concert Etude, Op. 40" by Alexander Goedicke, featuring Michael Brown (music education major from O'Fallon) on trumpet; "Concert Piece" by Burrill Phillips, featuring Rowan Hynick (music major from Marshall) on bassoon; "joyRIDE" by Michael Markowski; "Mannin Veen" by Haydn Wood; "Masque" by Kenneth Hesketh; "October" by Eric Whitacre;
"One Day in a Small Town" consisting of "On the Breeze That Drifts About the Courthouse Square," "Dancin' & Mischief in Liberty Park," "An Immeasurable Hero," and "Chasing the Band Bus on MO240" by David R. Holsinger; "Our Cast Aways" by Julie Ann Giroux; "Prelude, Siciliano and Rondo" by Malcom Arnold/John Paynter; "Pulse" by Randall D. Standridge;
"Sempre Fidelis" by John Philip Sousa; "Songs from the Great War" arranged by Andrew Glover; "The Elephant and the Fly" by H. Kling/Ed. G. Solie, featuring Mikaela Lewis (music major from Harrisburg) on piccolo and Gannon Craig (music education major from Salem) on tuba; "The Maid of the Mist" by Herbert L. Clarke, featuring Dakota Bartel (music major from Yorktown, Va.) on trumpet; "The Squealer" by Will Huff/Andrew Glover; and "The Stars and Stripes Forever" by John Philip Sousa.