Central Methodist to Add Men's, Women's Wrestling
Two New Coaches to be Hired
February 12, 2019
By SCOTT QUEEN / squeen@centralmethodist.edu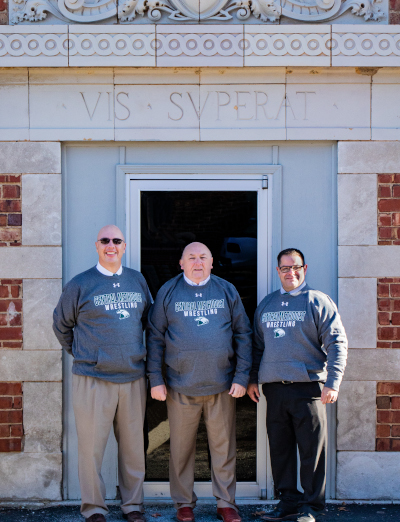 One of the oldest sports known to man is coming to one of the oldest colleges in Missouri. Wrestling is just around the corner at Central Methodist University.
Campus officials made the announcement today, committing to start men's wrestling and women's wrestling in the fall of 2019. In addition, they announced a fundraising campaign to renovate one of CMU's oldest buildings, Clingenpeel Hall. Clingenpeel will be the future practice home to the wrestling program.
CMU Athletics Director Brian Spielbauer this week launched a national search for two head coaches.
The coaches will be tasked with recruiting 50 student-athletes--25 men and 25 women--to begin competition in the 2019-2020 season.
"We're looking for two special individuals to run these programs," Spielbauer said. "They will have to be focused on winning, but also focused on student success—that means helping young men and women complete their degrees and graduate, but also prepare for the job market and contribute to our society in a positive way."
President Roger Drake said the academic expectations are high for the new wrestlers.
"CMU athletes are scholars and we'll expect wrestling to compete in the classroom as well as in the arena," Drake said.
Drake also has high expectations for fund-raising to renovate the tradition-rich Clingenpeel Hall. While the total cost of the renovation is still being calculated, Drake said the project is high on the university's priority list.
"The restoration and revival of Clingenpeel will mean a lot to many of our alums," Drake said. "Clingenpeel was built in 1906 and was our physical education building and our basketball gymnasium for years and years. We want it around for another 100-plus years."
Drake said much of the motivation to start wrestling at Central Methodist comes from Dr. Joe Parisi, vice president for enrollment management. Parisi is a former all-American wrestler and national championship coach who is in his second year at Central Methodist. He spent 17 years as a collegiate coach, winning seven NAIA national championships and coaching 130 all-Americans.
Parisi oversees athletics at CMU, and he and Spielbauer assembled a comprehensive wrestling feasibility study that Drake said was influential in the final decision.
"I'm excited that we're going to be starting wrestling," Parisi said. "It will enhance our athletic program and help grow the university. Wrestling has been a passion of mine for many years, but no greater than my passion for Central and doing whatever I can do to help it succeed."
Central Methodist competes in the Heart of America Athletic Conference and the National Association of Intercollegiate Athletics. While men's wrestling has been an NAIA sport for many years, women's wrestling was just introduced in 2018.