Band Day To Bring In Thousands This Saturday
Approximately 3,300 Student Musicians From Various School Sizes Will Compete
October 10, 2018
By MAGGIE GEBHARDT / mgebhardt@centralmethodist.edu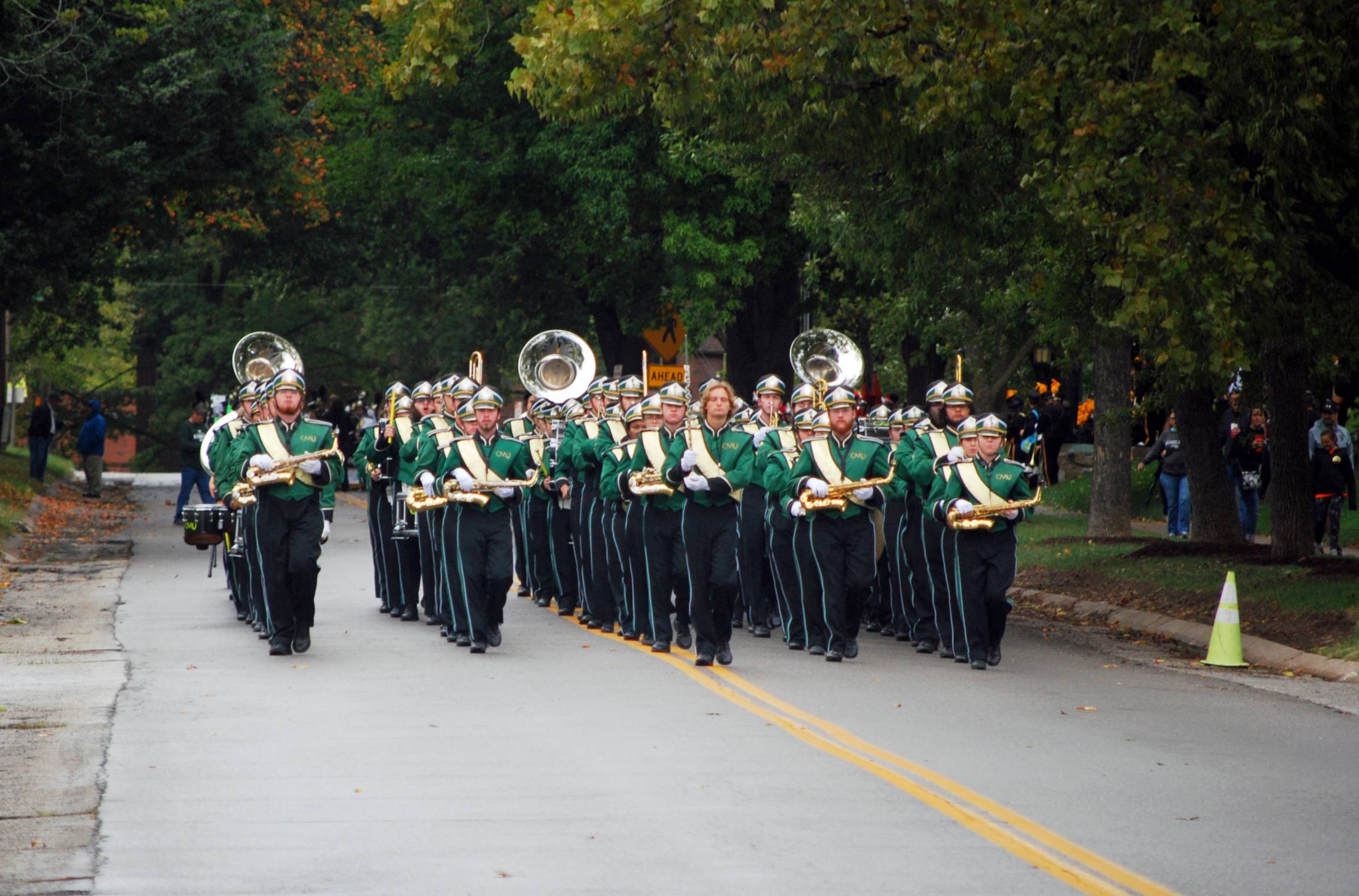 Each fall, a well-known Central Methodist University tradition brings together the talents of thousands of high school musicians – echoing beautiful, instrumental melodies through the town of Fayette.

This year marks the Swinney Conservatory of Music's 54th annual Band Day, which will take place Saturday, October 13, in downtown Fayette and on CMU's main campus.

Led by the CMU Marching Eagles Band, the day will kick off with a 9:30 a.m. street competition around Fayette's downtown Courthouse Square. At the same time, a drum line competition will be going on in Puckett Field House on the CMU campus.

At 10 a.m., an indoor Color Guard competition will begin in the Philips-Robb Recreation Center, and field competitions will start at 10:30 a.m. at Davis Field. There will be a $3 admission fee to the field competition for adults only. All students get in free, as do CMU personnel. All other competition sights are free for everyone.

Awards will be given during different times of the day. Class 1 and 2 awards will be given out at 2:30 p.m., Class 3 awards at 5:30 p.m., and Class 4 and 5 awards, as well as sweepstakes will be announced at 8:15 p.m.

Roughly 3,300 student musicians are on deck to compete, and an exciting 35 bands will be participating in the field competitions.

Schools scheduled to participate in Band Day include:

Class 1: Albany, Brunswick, Bunceton, Canton, Chamois, Glasgow, Keytesville, Leeton, New Franklin, Norborne, North Shelby, Orrick, Osage, Slater, and Sweet Springs.

Class 2: Carrollton, Cole Camp, Eugene, Fayette, Gallatin, Harrisburg, Louisiana, Marceline, Mark Twain, Mid-Buchanan, Pleasant Hope, Salisbury, Scotland Co., Sherwood, Smithton, South Shelby, Stover, Tipton, and Westran.

Class 3: Boonville, Bowling Green, Brookfield, California, Eldon, Hallsville, Holden, Knob Noster, Macon, School of the Osage, and Southern Boone Co.

Class 4: Affton, Fulton, Grandview, Hannibal, Oak Grove, Kirksville, Raytown South, and Savannah.

Class 5: Hutchinson, Troy-Buchanan, Waynesville, and William Chrisman.

Central Methodist alumni who will be directing bands during Band Day include Caitlin Bird (Stover), Susan Bishop (Brunswick), Sara Blandford (Fulton), John Critchlow (Keytesville), Lisa Dobbs (New Franklin), Kyle Donnelly (Boonville), Michael Fuller (Hannibal), Tiffany Hankins (Sherwood), Alex Kirby (Fayette), Daniel Long (Norborne), Jenna Maule (Salisbury);

Casey McDonald (Eugene), Bobby Mobley (Mark Twain), Kelly Neudecker (Fulton), Jared Sabataso (Waynesville), Joe Sisco (William Chrisman), Jim Stockmann (Waynesville), Paul Weissenborn (Mid-Buchanan), Bill Wells (Affton), J. West (Hallsville), and Rose Wilburn (Louisiana).

For more information, visit centralmethodist.edu/academics/events/band-day.php, or email finearts@centralmethodist.edu.